The Mountain Trike company has been trading now since 2011 – so I guess you'd say we have moved on from being an early stage startup and have earned our place as a viable business.  Since launch we have seen a steady increase in sales and territories we sell to – as has our product offering, with the launch of 3 new products over the last few years, not to mention upgrades and adaptations – just as well, or we wouldn't be moving forward!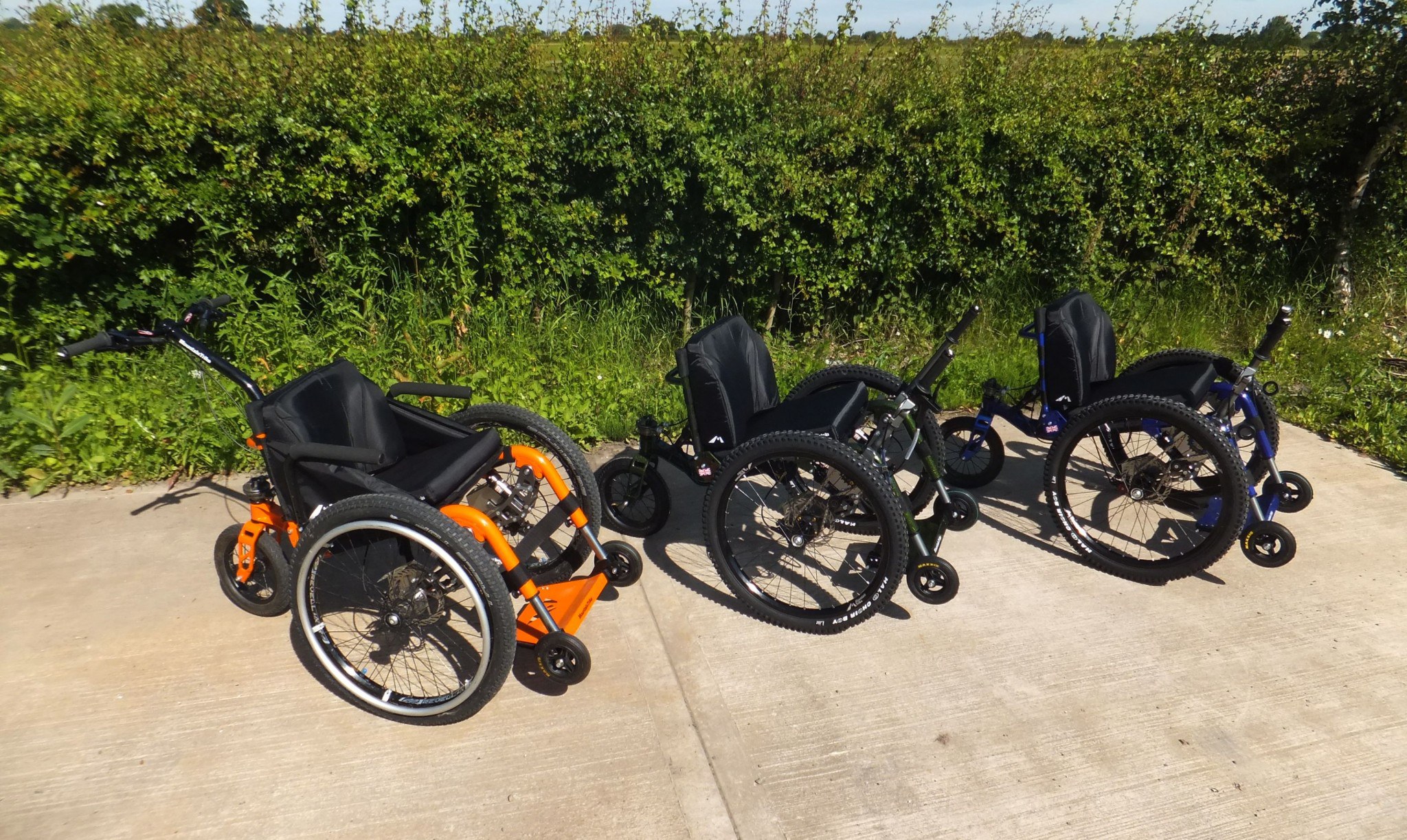 In the early days there were obviously fewer Mountain Trike products around and when we would get asked about second hand Mountain Trikes there really weren't many available, so it wasn't really an area we could help with.  However, with sales and product growth we are now finding that there is more of a second-hand market – both for the seller and purchaser.  
Our all-terrain wheelchairs are generally purchased as a secondary wheelchair and predominately used to help with the enjoyment to explore the outdoors – due to the high-end specifications and that each product is bespoke made we are under no-illusion that they are an expensive bit of kit – so for some the biggest barrier to purchase is finding the funding – so a second-hand Mountain Trike is an excellent affordable option.
Over the last year we have seen an increase in second-hand Mountain Trikes becoming available and more recently customers have approached us for help with the selling process – so we thought now would be a good time to help with the options available for both the seller and purchaser.
The Seller:
Obviously peoples circumstances do change and if your Mountain Trike isn't being used as often as first thought, then like any bit of un-used kit, selling it onto someone else to benefit and enjoy is the obvious step.
In the first instance it is worth contacting us here at Mountain Trike as occasionally we may offer to 'buy-back' your Mountain Trike – this is all very dependent on our circumstances at the time and the condition of your Mountain Trike. We may also be in communication with customers who are looking for a second-hand Mountain Trike and can connect you with them.
There are many good second-hand selling sites that other customers have successfully used to sell their Mountain Trike – Gumtree, ebay, Preloved etc.  We also recommend Access Your Life have a preloved section on their website.
You are also more than welcome to advertise the sale of your Mountain Trike via our social networks – we have quite a good following and engaging audience on our Facebook page.
When selling your Mountain Trike ensure you have a good selection of images and some people may well want to know the unique ID number of your Mountain Trike so be sure to have that to hand.   
Please note that if you are selling your Mountain Trike less than three years from purchase that the 3 year warranty doesn't transfer with the sale – and it will be sold as seen.  However, Mountain Trike or any or any of our distributors would be happy to provide a service for the new owner and offer the same post sale customer experience – we have also previously been asked about options to change the colour frame – this is possible, but it is quite a costly process. 
The Purchaser:
If you are in the market for a second-hand Mountain Trike, then as mentioned above there is certainly a growing number of products becoming available – but when they do come on the market they get snapped up pretty quickly!
Do approach Mountain Trike in the first instance as we may well know of customers who are selling their Mountain Trike and we can put you directly in touch with them. On some occasions we may have bought back a customers Mountain Trike and reconditioned it to sell at a lower price. 
Ask around via our Mountain Trike social networks – there might be someone selling their Mountain Trike or thinking about selling their Mountain Trike that you can contact. Search google and the various second-hand selling sites, as mentioned above – those sites that you can advertise second hand gear on are perfect for buyers. 
When corresponding with the seller be sure to find out as much detail as possible about the Mountain Trike – each Mountain Trike has its own unique ID so request this and we would be more than happy to find out any additional information from our records. If it is possible arrange to view and try the Mountain Trike and get them to email or send you photographs.  If you haven't tried our Mountain Trike products previously and are thinking about a second-hand Mountain Trike we would recommend you have a demo with us to make sure it is right for you.
What we have found with second-hand Mountain Trike sales is that generally they have not actually been used that much, hence the main reason for selling, so the condition of many is that they are like new.  However, we are more than happy to carry out a service or check with your local distributor if they would be happy to do this. We can easily replace any items and continue with any post sale queries as we would with any new customer.  Of course if you are buying / selling outside of the UK and there is a distributor in your area your customer relationship would be with the distributor.
Experience Centre near Leeds run an excellent Mountain Trike service for sellers and new customers who have just purchased a second-hand Mountain Trike – they also run fabulous group Mountain Trike rambles – perfect if you are new to Triking.
Hopefully, this information and recommendations are useful for sellers and buyers for the second-hand Mountain Trike market.
Alternatively, if you can't wait for a second-hand Mountain Trike to come onto the market then check out our 0% Finance packages – generally the deposit is the same price as a second hand trike and with our flexible payment plans this could be an option to help with the purchase.  More detail is available about our Finance packages here. 
Also, many customers have successfully purchased their Mountain Trike through fund raising and crowd-funders – so this is another option.