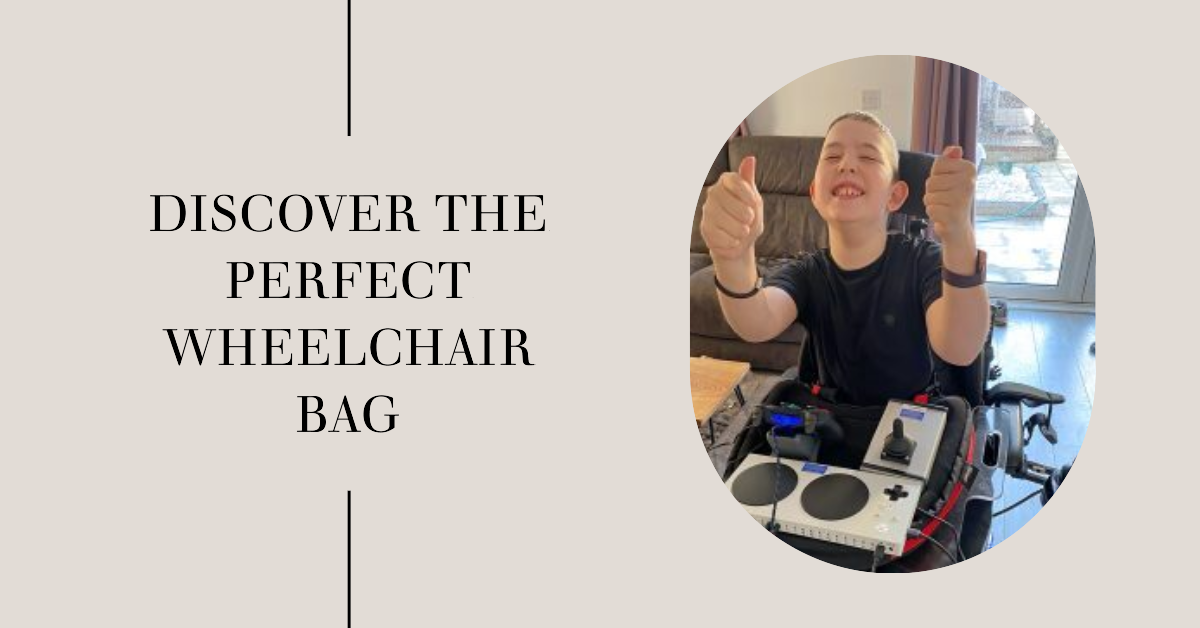 Introduction: Finding the Best Wheelchair Bag
Choosing the right bag for your wheelchair is more than essential. This article guides you through the quest to find the best wheelchair bag, comparing top choices on key features.
For wheelchair users, it's important to have a bag designed to meet your unique needs, rather than using a generic travel or carry bag. Wheelchair bags have features that make organization, access, and transport much easier for those with limited mobility.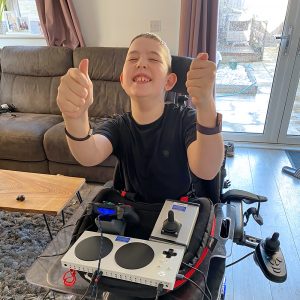 Bags like the Trabasack Curve, Sam Renke Bag, and Optivus Captivator are made specifically with wheelchair users in mind. They have accessible openings and securement straps to easily attach the bag to your chair. Interior pockets and compartments keep items upright and easy to find. Features like stable lap trays, insulated bottle holders, and anti-theft zippers add convenience.
Additionally, wheelchair bags are ergonomically shaped to fit your body comfortably while seated. Their durable fabrics stand up to daily use. With customizable and adjustable straps, they can be worn or positioned exactly how you need them.
An ordinary bag simply doesn't have the wheelchair-friendly adaptations that make organization and access so effortless. For hands-free transport and optimal comfort, a bag designed for wheelchair users is a worthwhile investment.
---
Key Features at a Glance: What Makes the Best Wheelchair Bag
In the search for the best wheelchair bag, features play a significant role. Below is a quick table to guide you:
| Bag | Key Features |
| --- | --- |
| Sam Renke | Matching clutch, High-contrast lining, Large zipper pulls, Vegan leather |
| Trabasack Curve | Built-in lap desk, Ergonomic shape, Machine washable fabric |
| Optivus Captivator | Anti-theft pocket, USB charging, Weather-resistant fabric |
Comparison of the top wheelchair bags
| | Sam Renke | Trabasack Curve | Optivus Captivator |
| --- | --- | --- | --- |
| Matching Accessory | Matching clutch bag | | |
| Interior Lining | High contrast lining | | Bright orange lining |
| Accessible Zippers | Large zipper pulls | Ring Pull Zippers | Wide zipper with puller |
| Internal Organization | Bottle holder, keychain, phone pocket | Zip pocket | Anti-theft pocket, laptop compartment |
| Lap Desk | | Built-in lap desk | |
| Transport Options | Shoulder bag, messenger | Wear on the lap like a bumbag using a long strap (if required) or carry on the back of the chair using supplied side straps | Secures to a wheelchair, shoulder carry |
| Exterior Features | | D-rings for attaching keys, phones or cards on a chain or lanyard | Reflector, USB charging port |
| Premium Materials | Vegan leather | Machine washable fabric | Durable weather-resistant polyester |
In-Depth Look at Selected Bags
Sam Renke Bag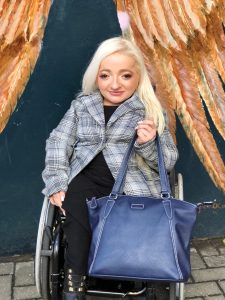 The Sam Renke bag offers a blend of style and functionality. With its matching clutch and high-contrast lining, it makes accessibility look good. Large zipper pulls make it easy to access compartments, and its vegan leather adds a touch of luxury. User testimonials rave about its perfect balance between fashion and function.
The Sam Renke Bag is designed by actress, presenter, and disability campaigner Samantha Renke. As a fashionista who also happens to use a wheelchair, Samantha understands the importance of a bag that is both stylish and functional.
The Sam Renke bag is available in classic and extra-large sizes to suit different needs. Both sizes come with a matching removable clutch bag – perfect for carrying essentials. The bags feature a high-contrast interior lining in turquoise or cream, making it easier to spot items inside your bag.
Large and easy-to-grasp zipper pulls make access a breeze for those with dexterity issues. The bag also comes with a set of adjustable straps that allow you to secure it to your wheelchair or wear it messenger-style across your body.
Inside, you'll find several organizational features like an insulated bottle holder to keep your drink upright and in reach, a keychain, a pen holder, and a mobile phone pocket. There is even a discreet side pocket for personal items you want to keep private.
Samantha designed this bag with wheelchair users in mind, but its thoughtful features make it versatile for anyone. The bag is crafted from soft vegan leather and comes in an array of stylish colours – from classic black to eye-catching metallic purple.
Samantha Renke is passionate about increasing disability representation and access. The creation of this eponymous wheelchair bag reflects her commitment to functional, inclusive design that doesn't compromise on style. For a bag that blends fashion and function, the Sam Renke is a top choice.
Click here to see all the colour options for the Sam Bag
Trabasack Curve
The Trabasack Curve stands out for its innovative design. It comes with a built-in lap desk, making it perfect for on-the-go tasks. Its ergonomic shape and machine-washable fabric add to its appeal. Those who have used it appreciate the multiple carrying options, including attaching it directly to a wheelchair.
The Trabasack Curve is an excellent wheelchair bag option that combines function and style. Having a good wheelchair bag is crucial for staying organized on the go, but the Trabasack Curve offers unique benefits tailored for wheelchair users.
The Curve's signature feature is the built-in lap desk, providing a stable surface for working, dining, reading, or playing games while in your chair. The desk is ergonomically shaped to fit around your waist securely, with removable bean bag inserts that mold to your body and keep the tray level. This innovative design means you can have a usable tabletop surface with you at all times.
Another great perk of the Trabasack Curve is that it can be worn in multiple ways. The adjustable straps allow you to easily switch between wearing it on your lap as a bumbag or attaching it to your wheelchair on the back from wheelchair handles using the straps supplied. This flexibility makes it easy to transport and access your belongings.
The Trabasack Curve is also made of durable, machine-washable fabric so you don't have to worry about dirt or stains. It wipes clean easily and can even be machine washed. And with interior pockets, you can stay organised.
For wheelchair users needing portable storage and a steady lap surface, the Trabasack Curve wheelchair bag is a versatile option built for accessibility and convenience.
Click here to buy the Trabasack Curve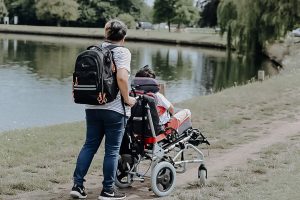 For those who need to carry gadgets, the Optivus Captivator is a top pick. Its anti-theft pocket and USB charging port make it perfect for tech-savvy users. The weather-resistant fabric ensures durability, while its large capacity accommodates everything you need. Users praise its thoughtful design, particularly the easy wheelchair attachment.
The Captivator wheelchair bag from Optivus is thoughtfully designed with useful features to keep you organized on the go. This bag has a large capacity to carry all your daily necessities.
The Captivator has a hidden pocket at the back that keeps valuables concealed and secure. Its bright orange interior lining makes finding items inside a breeze. There is also an exterior reflector for visibility and safety when cruising at night.
A USB port built into the side of the bag means you can easily charge devices on the move. Just plug your charging cable into the port and connect it to a power bank inside the bag (not included with purchase).
The Captivator secures neatly to your wheelchair with an adjustable strap but can also be carried by the top handle or worn as a shoulder bag. The wide opening and padded laptop compartment keep your tech safe when you're travelling.
Optivus designed this bag to be flexible for wheelchair users and caregivers who need to organize numerous items on the go. The multitude of interior and exterior pockets let you separate and find gear quickly.
The Captivator is made of durable, weather-resistant polyester so you don't have to worry about the elements. It also features a stylish streetwear-inspired design.
Optivus is on a mission to create adaptive clothing and gear that is both functional and fashionable for people with disabilities. The Captivator wheelchair bag reflects that commitment with its versatility, weatherproof fabrication, and sleek styling.
Click here to buy a Captivator Wheelchair Bag at a new sale price!
User Feedback
While features are vital, it's equally crucial to consider what actual users have to say. User feedback often reveals insights not covered in product descriptions.
Sam Renke Bag: Looking at the review site feefo: the Samantha Renke bag is highly recommended for its accessible features, stylish design, and functionality.

"The bags are made of high-quality faux leather and are very durable. I've used mine on several trips and it still looks as good as new"

"The bags are also very practical, with lots of pockets and compartments to keep everything organized. I especially love the insulated bottle holder, which is perfect for keeping drinks cold on hot days"

Trabasack Curve:  From Amazon USA: "I was skeptical because I had tried almost every different type of
tray there is, they were all more frustrating than useful.I stopped using them all because they were too heavy, slippery,
unstable etc. I could not move my chair when using any of
the other trays because things would fall off or it would tip over
completely. I couldn't pick them up. They ended up in my tray
graveyard in the basement.My Trabasack Curve is great. I've had it for about 6 months.
It's lightweight, comfortable, stable, easy to pick up and/or unzip.
It easily wipes clean, surface is firm not slippery, raised ridge
keeps items/spills contained. It's the best tray I've ever had.
I use it multiple times a day every day. I can even eat soup on it.
This is the first tray in my life, that allows me to eat soup or other
liquidy foods without constant fear of the tray tipping and/or
getting burned due my muscle spasms in my legs. I still need to be
careful but I have confidence in my Trabasack Curve.I can also easily access the controls on my power chair while using
the tray. The storage pocket is also very useful. You can tell
Trabasack Curve was designed by someone who actually needed to
use it regularly. It's such a blessing !!"
Optivus Captivator: Its tech-friendly features have been highly rated. The anti-theft pocket and USB charging port are particularly popular among users.
---
So, What is the Best Wheelchair Bag for You?
Picking the best wheelchair bag is a personalized decision shaped by various factors. If you prioritize aesthetics and lifestyle accessories, the Sam Renke bag with its vegan leather and matching clutch might be the perfect fit for you. On the other hand, if you need a multi-functional bag with a lap desk, the Trabasack Curve is a standout choice. For those who are tech-savvy and require a bag with features like a USB charging port, the Optivus Captivator has you covered.
The options are numerous, but the best wheelchair bag is the one that seamlessly fits into your daily routine, satisfies your storage requirements, and enhances your mobility experience. Take time to assess the features of each bag, think about your day-to-day needs, and then make an informed decision to find the bag that's just right for you.
The post Best Wheelchair Bag – what will work best for you? appeared first on Trabasack – Lap Desk and Bag in One.