Accomplished Mountain Triker, Steve, his wife, Renny, Jasper the not so little puppy and another fellow Triker recently decided to hike along the Monsal Trail in the Peak District.
The Monsal Trail is a traffic free old railway line which passes through some of the Peak District's most spectacular dales. It is very flat with a good solid surface so a really suitable route for wheelchairs.
Steve was particularly keen to get out on the route to test the battery life of his eTrike on the 18 mile round trip – knowing that if the battery did run out of power he would be able to manually ride back on the fairly easy flat terrain.
Here is Steve's account of his latest adventure…
"We started out a 9am from the Hassop Station carpark, Renny hired a bike from here to ride on the trail with us. We headed for Wyedale which is the furthest end of the trail (approx 8.5 miles). The trail starts with a slight incline and takes in 6 tunnels which have light sensors so you aren't left in the dark!
We crossed over the viaduct from which the views are stunning. We made good time and arrived at Wyedale just before lunch which is the end of the line, so we turned around and headed back stopping off at the Blueberry Cafe which is on the trail for a long leisurely lunch.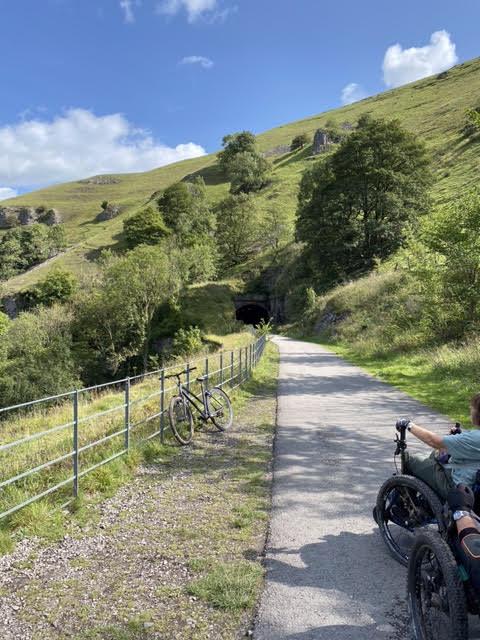 We headed back towards Bakewell Station stopping at Coombs Road viaduct which is the official other end of the trail. Having taken the obligatory photograph we headed back to Hassop Station carpark so Renny could return her bike.
The total mileage was 18 miles and it took us about 7 hours to complete. I had taken two spare batteries with me just in case, as well as a few spare parts, drinks and water for Jasper so I was carrying a fair bit of weight. But at the end both eTrikes had 2 green lights on the battery so in theory we could have done it all again – well the eTrike could have – not so sure the rest of us could have!"
"Obviously the trail is flat and the riding was a mixture of self propelling and electric assist – but 18 miles on a 3rd of the battery charge is very impressive and encouraging."
Steve has now clocked up over 1,000 miles with his eTrike – think they both may need a service and bit of TLC before the next adventure!