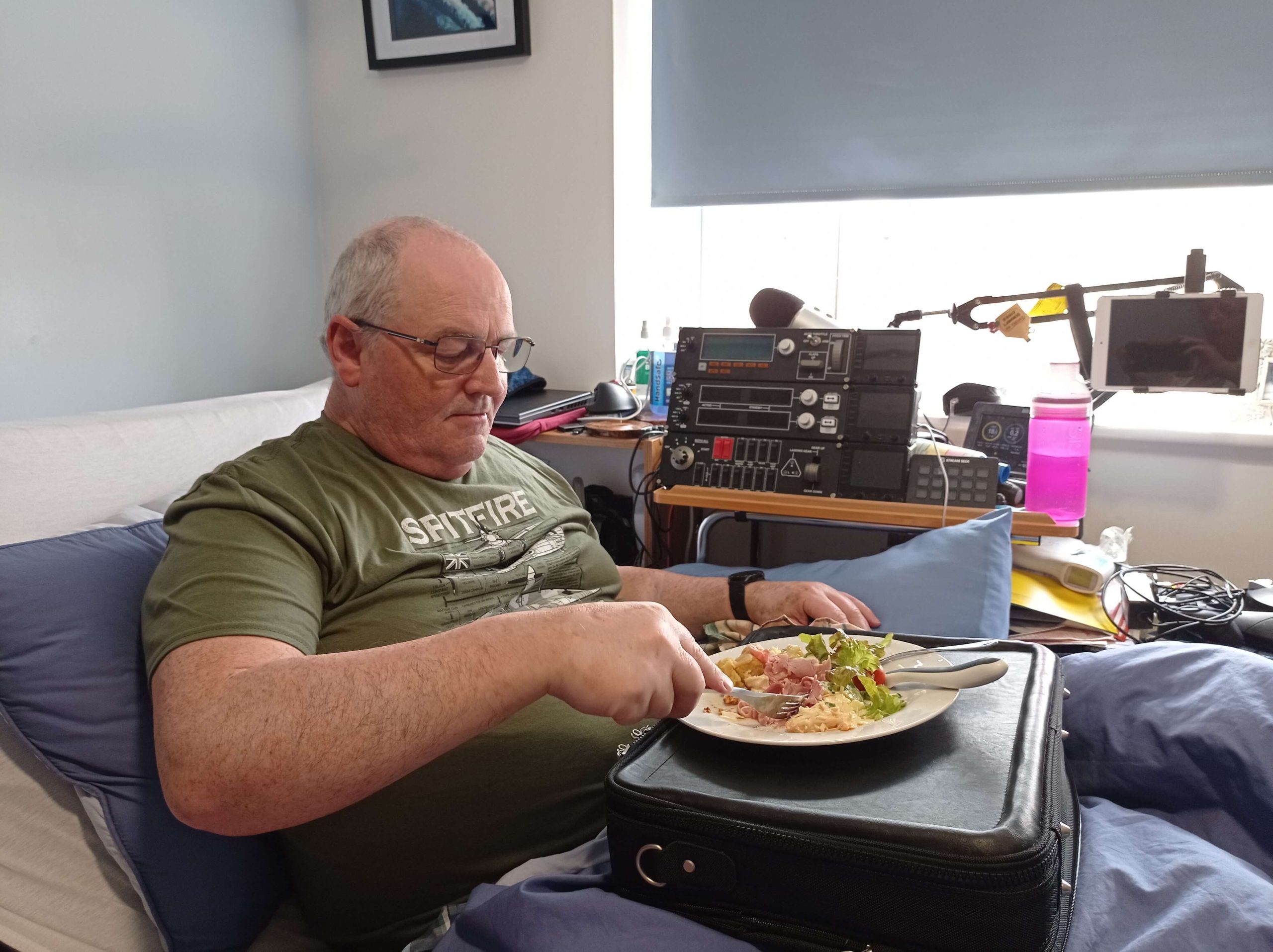 Mike reviews the Trabasack, the most Accessible Lap Tray for Wheelchair Users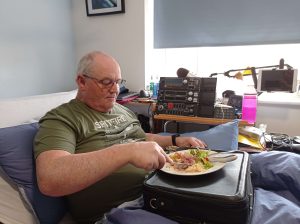 In this article, we introduce Mike Nevin who has been using trabasacks for many years and explore the benefits of Trabasack lap trays designed specifically for wheelchair users, providing a convenient and accessible solution for dining and computing:
Hitchhikers' Guide to a Tray: The Need for a Lap Tray
Have you read or seen 'Hitchhikers' Guide to the Galaxy?' If so, you will know the vital importance of a towel. Well, forget towels, as important as they are. I value a decent lap tray. If you spent as much time sitting down as me, you would understand. Oh, you do, well read on.
TV dinners are not a new thing, they even invented a special table for them. But who wants to perch on the edge of a sofa to eat from one? Trays are much better. Some bright spark came to that realisation that a long time ago. They were probably sitting on a beanbag watching 'Dad's Army.' A bit of lateral thinking reversed the bean bag from their posterior to the bottom of a tray and the TV tray was born.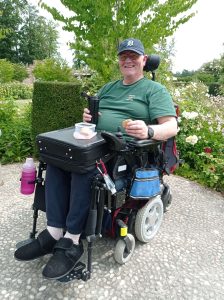 Trabasack Lap Trays: A Solution for Wheelchair Users
Flash forward to my needs in a wheelchair and a TV tray is too wide. I can only look at them in jealously. Picture the scene: me in my wheelchair balancing my computer tablet on my knobbly knees. Then a miracle happened. That may be an exaggeration, I discovered Trabasack trays. Over the last few years, I've had three of them. The latest one has just arrived, and it is the Max, literally and in name.
My Trabasack Journey: From the Mini to the Max
I have had the Trabasack Curve, Mini and now the Max. I bought the Max because I'm now carrying my 15″ laptop around. Any thieves reading this – ignore that! Although having it right in front of me in a bag on my lap while I can do other things, like having a drink, makes me feel a lot happier.
Key Features of Trabasack Lap Trays for Wheelchair Users
These trays have a bean bag base in a pocket section at the bottom. The bean bags move and occasionally need adjusting. The beanbag is inside a zipped pocket, which you can store things you want to keep extra safe (or private).
The smallest Trabasack, the Mini, is a suitable size for general use. I used it for my 10″ computer tablet and a 6″ phone. Along with wallet, keys, and all those things' we women strike that – men need to carry around. The Curve shaped version, is very ergonomic and larger. Both these trays share a common feature: One large, zipped storage area. I have found that I need to use inner pouches to separate out this area and make it easier to find things.
The Utility and Versatility of Trabasack Lap Trays
All Trabasacks' have clipping points on the outside. Designed to attach straps. The Curve and Mini have quick release sections in those straps. That way, you can leave the bottom part connected to your wheelchair and the top on your tray. I find this feature invaluable. Once the tray is clicked onto my wheelchair, it is secure. It holds my personal possessions inside. Hidden and safe. I can eat on it or use my tablet to type or watch films on the tray section. I'm typing on the tray section now – QED.
The Trabasack Max: An Ideal Lap Tray for Larger Devices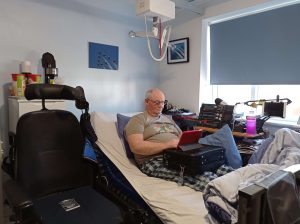 The Max has an enormous advantage that I am just discovering. It is bigger in all directions. Inside it has a Velcro strap at the bottom to secure a laptop or tablet, up to 15.6″. I put mine in a sleeve first. That way I can put stuff on top of it without causing damage to the laptop. The top opening lid with the inbuilt tray, has two restraining straps to hold it open. Within the inside of this lid are three pockets. A mesh one (smaller and sectioned in two), a zipped one (half height) and a slip in pocket (the largest) with a Velcro strap. The last is big enough for A4 papers. The whole lid section has a heavy-duty zip with a hole ring that can take a mini padlock. That way you can lock away your laptop. The Max comes with a shoulder/back strap. But I have attached the smaller straps that came with my other trays. That way I use it in my wheelchair. The extra height of the Max is a real boon for me. I can reach food easier and type on my tablet/laptop easier. The Max doubles as a quality laptop case. So it comes with a heavy duty handle and feet. There is also a stylish version with Harris Tweed trim. I have just received one of those and they look very swish. The Harris Tweed trim runs around the side of the bag.
Why Trabasack is My Essential Wheelchair Accessory
All Trabasacks have a warm touch artificial leather tray with raised sides. Those raised sides have saved me from losing things many times. I am never without my Trabasack whenever I am in my wheelchair. I also use it in bed to eat on and use my tablet or laptop. It's one of those items that I wonder, 'how did I manage before Trabasacks?'
Conclusion: Trabasack Range, the Most Accessible Lap Tray for Wheelchair Users
Trabasack stands out as the most accessible lap tray for wheelchair users, offering a range of features that cater specifically to their needs. The author shares their personal experience with Trabasack trays, highlighting why they have become an essential accessory. Designed with convenience and accessibility in mind, Trabasack lap trays are meticulously crafted to provide a comfortable and secure surface for dining and computing while in a wheelchair.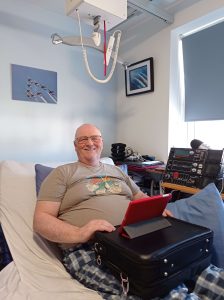 The Trabasack trays are available in various sizes, including the Mini, Curve, and the larger Max model. The Mini is ideal for general use, accommodating a tablet, phone, wallet, and other essentials. The Curve offers ergonomic design and additional space, while the Max is specifically designed to accommodate a 15″ laptop or tablet. The trays feature a bean bag base that ensures stability and comfort, although the author notes that the bean bags may occasionally require adjustment.
One of the standout features of Trabasack trays is their versatility. They come with clipping points and quick-release sections that allow easy attachment to wheelchairs, ensuring a secure fit. The trays also include a large zipped storage area for keeping personal belongings safe and hidden. The raised sides of the tray prevent items from sliding off, providing peace of mind.
For wheelchair users who require extra space, the Trabasack Max offers a remarkable advantage with its larger size. It includes a Velcro strap to secure a laptop or tablet, multiple pockets for organization, and a lid that can be locked for added security. The Trabasack Max doubles as a quality laptop case, making it a practical and convenient solution.
Overall, Trabasack lap trays have proven to be indispensable for wheelchair users, offering a warm touch artificial leather surface, raised sides for item security, and thoughtful design elements. With their commitment to accessibility and user-friendly features, Trabasack lap trays have become an essential companion, enhancing the dining and computing experience for wheelchair users both indoors and on the go
Read more musings from Mike at his blog "Shall we get dressed now?"
The post Trabasack: The Ultimate Lap Tray for Wheelchair Users appeared first on Trabasack – Lap Desk and Bag in One.