Hiring the Mountain Trike all terrain wheelchair products are a great way to test ride and find out if it is the right wheelchair for you/your family. Or alternatively hiring is perfect for a special occasion or event you have coming up.
Our excellent and experienced hire partner Mobility Hire manage all of our customer hires and offer a very flexible service for UK customers.
They have a fleet of all terrain wheelchairs available to hire which includes the eTrike, Mountain Trike and MT Push.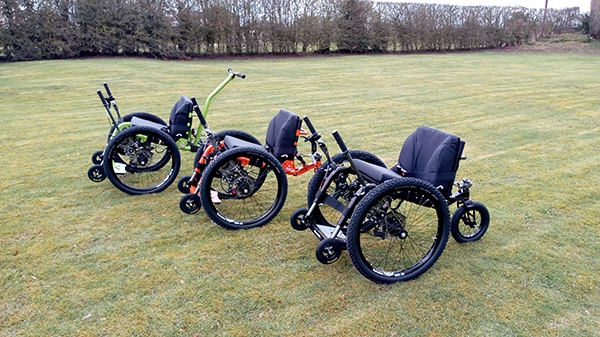 Mobility Hire have an experienced team who are happy to discuss the hire process with you and ensure the correct all terrain wheelchair is being hired. Their experienced delivery engineers will arrange delivery to your address and will be on hand to provide any adjustments and help get the equipment set up for you and if need be help explain how to ride the Mountain Trike. They will then return to collect the Trike from you when the hire is complete.
Mobility Hire offer a minimum hire period of 2-weeks on all products and should you then decide to go ahead and purchase the 2-week rental *fee will be reimbursed.
Prices start from £120.00 per week for the MT Push and up to £220.00 per week for the eTrike. Delivery and collection prices can be easily calculated online when you enter your postcode.
We've outlined below some of the benefits for hiring and have highlighted a few reasons why some people might choose to hire:
You can try it in your home setting and see how it fits into your lifestyle.
You may have received a 1:1 demo and want to test ride it further to build your confidence and understand the capabilities further.
You may have a Mountain Trike on order, but our production lead times might be high, so hiring is a great option while you await your own Mountain Trike.
You might want to hire for a holiday or event where an all terrain wheelchair will help with access.
Mobility Hire offer a hassle free delivery and collection service.
Mobility Hire offer the option to hire for a festival (special shorter-term packages available speak to Mobility Hire about this).
Option to hire the Mountain Trike for travel aboard.
If you live outside the UK and you are travelling to the UK for a holiday a Mountain Trike wheelchair hire can be arranged.
To find out more about hiring our all terrain wheelchair products please contact Mobility Hire:
If hiring isn't something you would like to do but you would like to test-ride our products then we do provide 1:1 demos to UK customers, please get in touch with us to arrange this. We also have a great network of distributors and experience centres throughout the UK who would be happy to offer you a no obligation demo.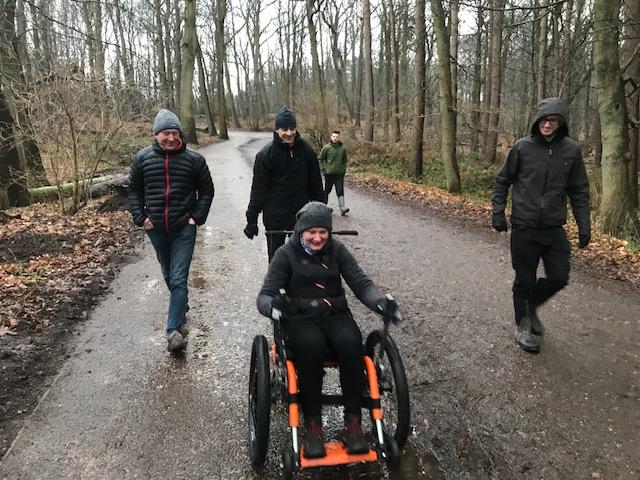 Alternatively a number of organisations and venues have fleets of Mountain Trike products available for public use. See our Try listing to view the venues and locations these are available and contact the organisations for further information.
We also have a great Triking Community – check out our Community Page – a great place to meet and connect with our community of Mountain Trikers.
If you live outside of the UK check to see if there is a distributor in your country to arrange a demo direct with them.
*the rental fee will be deducted off the purchase price, this fee may vary depending on who you place your order through (MT have regional distributors who offer pre & post sales service to customers in their area).
** Delivery to some areas in Scotland might be difficult and hire outside of the UK isn't available (this includes hire to Ireland).