If you have a child with a disability or limited mobility and want to enjoy the outdoors together as a family then an all-terrain wheelchair might be the perfect answer. Here, we talk you through what you need to consider and how to find the right chair for you and your child.
There are some great all-terrain buggies and strollers that might have been suitable for your family when your child was a baby or toddler. But when they outgrow these what is the next option available and what should you look for?
Mountain Trike all-terrain wheelchairs are designed for outdoor use and going over uneven terrain, and all of our chairs are adaptable for children.
All-terrain wheelchairs for children – top tips
It is very rare that a wheelchair will fit everyone, and this is even more so the case when considering a wheelchair for a child. First and foremost, think about versatility and adaptability.
Ask yourself these questions and follow these top tips to help with your buying decisions…
1. Consider what type of kid's wheelchair is best suited to the activity your child will participate in.
If the aim is to get into the outdoors more, you'll need to think about how well it will function for your child outside of your home.
What kinds of terrain will it be going over? Will you be using it mostly on pavements, paths and fields, or will you be heading up mountains and over very rough ground?
"Make sure you choose a chair that will suit the conditions you'll be subjecting it to."
2. Do you want an all-terrain wheelchair that fits your child now or one that will grow with them?
Children grow so fast and a chair that isn't adaptable will not last long. Rather than having a specific wheelchair for children, our products can be modified to be suitable for children so that their wheelchair can grow with them and be used in their adult life.
Our chairs can even be converted into a different model, for example from a manual to an electric model – more on this below.
This means you have even more flexibility if or when your child's needs change and stops you from having to buy a completely new chair.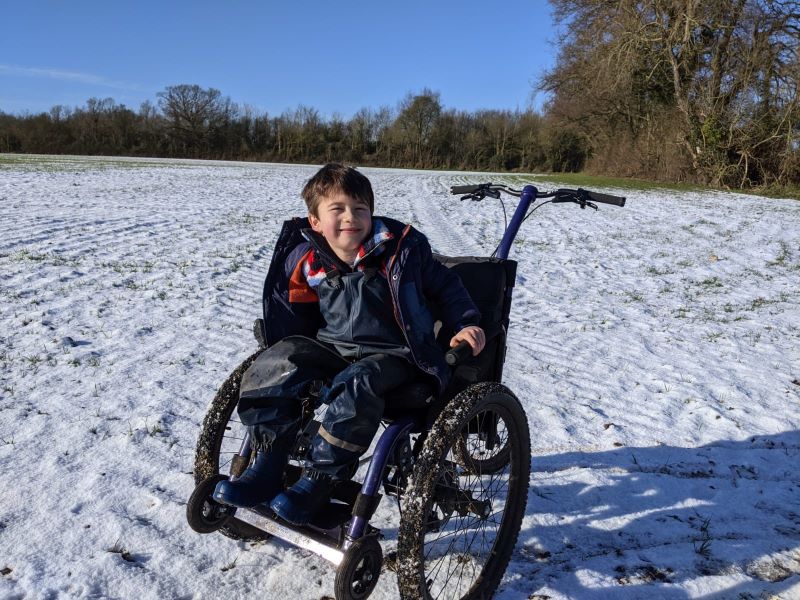 3. Check the safety features a wheelchair has to ensure your child will be secure, especially when going over rough ground or on long walks.
Safety straps, guards and anti-tip wheels are key features to make sure the chair includes.
Our wheelchairs come with spoke guards to protect fingers from getting hurt, have the option for a 4-point harness, anti-tip wheels at the front and, if necessary, leg or ankle straps to help keep riders secure.
4. You want your child to be comfortable, so select wheelchair cushions and supportive accessories carefully.
Ensure the wheelchair has been properly measured and has adjustable elements, such as footrests and a backrest – more details on this in the features and accessories section.
Our chairs have the option for custom-moulded bespoke seating, so your child can have a special seat fitted for added comfort and safety.
5. It is vital to consider how the wheelchair is going to be transported.
When you start looking at chairs, ask how easy it will be to be moved, stored or taken in your car. Make sure you know how much car space you have so that you don't get a chair that is too big.
"Our wheelchairs are created with transportation in mind – they're lightweight (20-25kg), and can be folded down into a cube size to fit into the boot of a normal-sized hatchback."
Bike racks and hoists are also an option available to help transport your child's Mountain Trike.
Read our full guide to transporting your all-terrain wheelchair.
6. Think about how easy the chair will be to clean the wheelchair.
Children often mean mess and dirt. With your child going out into the muddy outdoors, having a chair that is easy to clean will be invaluable.
Look for removable cushions and easy wipeable materials as a minimum.
Discover our top tips for maintaining an all-terrain wheelchair and keeping it clean, with ideas from customers who get out in their chair day-in-day-out.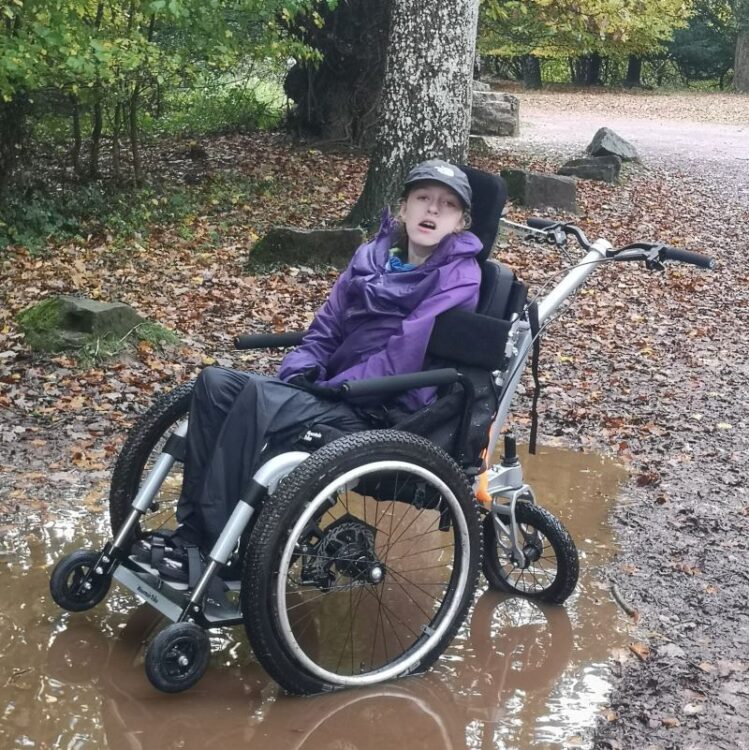 7. Aesthetics are important to children, and there are now lots of options to personalise your wheelchair.
We have a wide selection of colour choices, including metallics and even special effects can be added so that you and your child can personalise their frame.
8. If you or others will be pushing the chair as opposed to your child powering it, think about how easy it will be for you.
We have a range of chairs for different situations, including manual, electric assist, independently ridden or attendant controlled.
Our attendant-controlled chairs, such as the MT Push (seen in the picture above), are designed with the pusher in mind, making it easier for someone pushing the chair over rough ground.
9. If relevant, think about how well your child will be able to use their wheelchair when you are not around.
You don't necessarily want your child to have to always rely on you or another person, and they're likely to want their independence from time to time.
Our electric-assist wheelchairs, such as the eTrike, can be ridden by combining manual and electric assistance, giving options for flexible riding and confidence that you will always get home.
You can also change your child's chair at a later date. For example, the MT Push can be converted into the Mountain Trike giving the rider the option to self-propel at a later point.
The eKit – electric power assist – is available as a separate kit and can be fitted to the MT Push and Mountain Trike.
You can take a look at our range of Mountain Trike all-terrain wheelchairs to find out more about the different options.
With all these tips in mind, the best way to make sure the wheelchair is right for your child and family situation is to arrange to try it out and have a demonstration with an experienced provider.
We offer this service, so get in touch with one of our suppliers to chat through the various options. Visit our website to find out how you can try or hire a Mountain Trike all-terrain wheelchair.
Key Mountain Trike features and accessories for kids
Our Mountain Trike wheelchairs have a number of key features and accessories, many of which are popular with younger riders and offer the perfect solution. These can be fitted to any of our all-terrain wheelchairs.
Headrest – for additional support and comfort around the head. Lateral support for additional support and comfort around the rib cage to prevent the rider from slipping and to enable sitting in an upright position.
Adjustable seat brackets – these are specifically designed for younger and smaller riders and make it easy to change the height and depth of the seat. To adjust, simply use the screws to move the brackets in or out for the depth and up or down for the height.
Footplate riser – adjustable to suit the child's height. An additional footplate riser can also be added on top of the main footplate if your child needs more height, and an extension can be fitted to fold out if the foot/feet need/s to extend out to rest on the plate.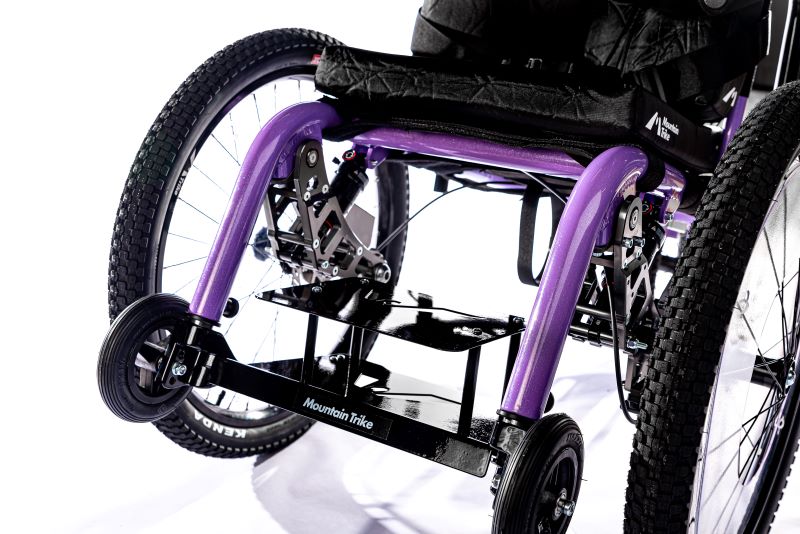 4-point harness – this provides excellent postural support and is popular with younger children.
Spoke guards – perfect for protecting wandering fingers.
Side guards – these offer great protection from muddy splashes. They come as standard on our Push range and as an additional accessory on our Lever range.
These features are compatible with any of the Mountain Trike chairs, either the attendant range or the self-propelled range, and are all available either as manual or electric assist.
Find the right model for your child by browsing through our Mountain Trike all-terrain wheelchair range.
Paying for your child's all-terrain wheelchair
Unfortunately, as we all know, having a disability or limited mobility means added costs, which can be an additional barrier when considering wheelchair options for your child.
We offer various finance packages as well as 0% finance options. There are also charities that support families in finding and funding the right adaptive equipment, such as Whizz Kids, who we've recently started working with.
Being reliant on a wheelchair for mobility should no longer mean that access to opportunities or the ability to engage in what your child loves is inhibited.