A £3500 access-all-areas Mountain Trike wheelchair has been donated to Sculpture by the Lakes by the family of local lady Kitty Webb, who sadly passed away aged 97, before ever having the chance to use it.
Kitty was a big fan of the sculpture park at Pallington, just east of Dorchester, and had been a regular visitor with her family for many years.
While she had always managed, with the aid of her wheeled walking frame, to navigate the entire venue, it was increasingly a struggle as she became more frail, suffering with osteoporosis and other bone issues.
But Kitty wasn't one to let challenges hold her back – in fact only a few weeks before her death she raised over £1500 pounds for the Captain Tom 100 Challenge in aid of the Royal Osteoporosis Society.
So, her family decided to invest in a MT Push all terrain wheelchair, a push device with built-in suspension, pneumatic wheels and a very comfortable seat, to help Kitty continue to access Sculpture by the Lakes and all the other places she loved.
Sadly, this wonderful lady suffered a stroke shortly after her 97th birthday, and the Mountain Trike was delivered soon after she passed away, so she never got to see or use it.
But her family have now donated the brand-new Mountain Trike to the sculpture park, a befitting act of kindness and generosity in memory of their loved one, who loved 'The Lakes' so much.
Kitty's son Andy Webb said:
"Kitty was a legend in her own lifetime. She lived locally for most of her life, and she absolutely loved Sculpture by the Lakes.
"If asked what she wanted to do for her birthday she would always say visit 'The Lakes'; she loved it there, and as a family we arranged some special birthdays at the sculpture park over the years, taking advantage of the private venues on several occasions. In fact, three generations of our family have been regular visitors over the years, becoming well-known to staff.
"Kitty was really looking forward to taking delivery of her Mountain Trike, and while she never had the opportunity to use it at Sculpture by the Lakes, we felt it could enable many other people to get extra pleasure from this special place.
"Sculpture by the Lakes will be a wonderful home for Kitty's Mountain Trike, and we consider it something she would have fully supported."
The new Mountain Trike was received by Simon and Monique Gudgeon, owners of Sculpture by the Lakes, and is now available to visitors, bookable in advance.
A member of the team has been given training in how to use and maintain the Mountain Trike and will take responsibility for its upkeep going forwards.
Simon Gudgeon, celebrated sculptor and co-founder of Sculpture by the Lakes, said:
"Kitty and her family were regular visitors to the sculpture park and we are so glad to know how much joy she took in coming here over the years. She was a remarkable lady who is remembered very fondly by the team.
"We are grateful for the generous gift of this fantastic Mountain Trike from her family which will make the walks around Sculpture by the Lakes more accessible and allow many more people to enjoy the tranquillity and beauty of this place in ease and comfort.
"It is a truly moving and fitting tribute, and will be a lasting legacy for Kitty, who loved this place so much."
For more information or to arrange an interview, contact Darren Northeast PR (workingon behalf of the Sculpture by the Lakes) on 01202 676762 or pr@darrennortheast.co.uk
Image shows – L to R
Simon Gudgeon and Monique Gudgeon along with Kitty's family.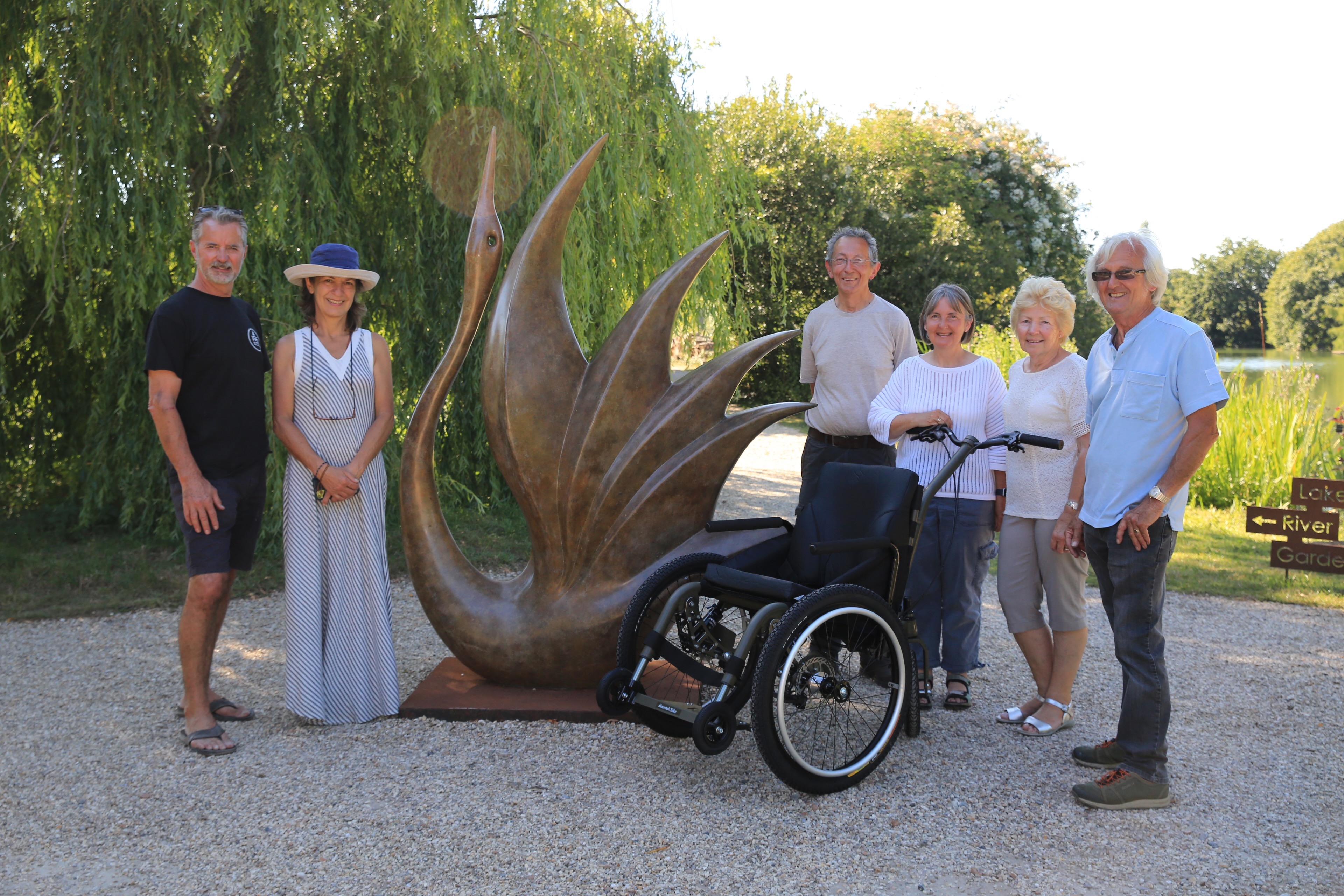 The MT Push is an attendant/buddy all terrain wheelchair and provides inclusive access as it has the ability to be pushed over a wide variety of terrain. The steering and braking takes place in the push handle located behind the rider – offering a comfortable safe ride for the rider and ease of use for the pusher.
Plan your visit and pre-book the MT Push, Sculpture by the Lakes.