Hiring is a great way to experience our all terrain wheelchair products for yourself and to really see how it can fit into your life and go to all those places which are dear to you.
We have a small hire fleet of Mountain Trikes (manual lever drive) and MT Push (manual attendant chair) all terrain wheelchairs available to hire to anyone living in the UK – these can be hired direct from us through our short-term try before you buy hire scheme.
Unfortunately, due to the complexity of the MT Evo and transporting battery issues (dangerous goods!) of our eTrike & ePush we are unable to offer a hire for these products.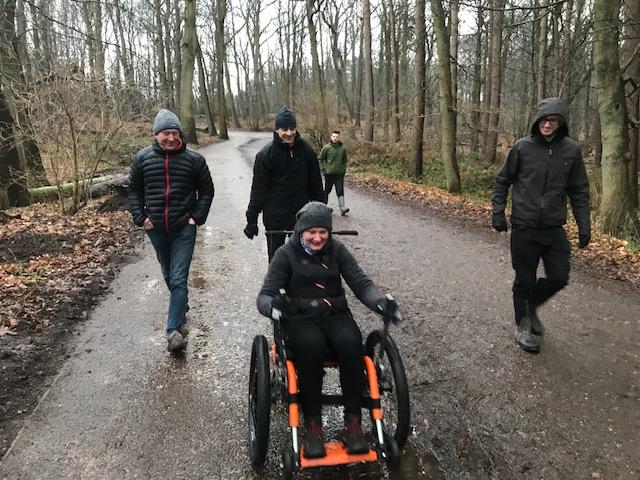 We do offer individual demonstrations for the eTrike, ePush and MT Evo – either at a suitable location for you, such as your home, favourite local outdoor space or you are welcome to arrange to visit us at HQ.
We also have a great network of Experience Centres & Distributors where you can go along, have a demo of a Mountain Trike product, or even hire one out for a few hours to put it through it paces. Please contact them direct from the listing, here.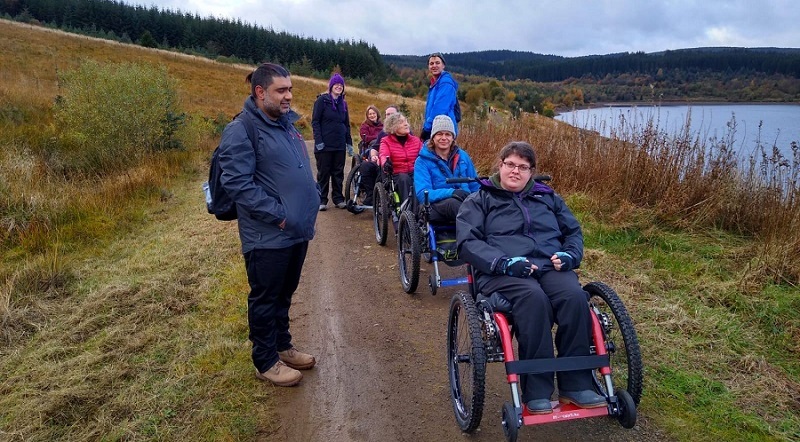 Due to our small hire fleet we can only hire to individuals who are considering purchasing – in essence this is a 'try before you buy' scheme. Hire is only available for customers in the UK and we cannot hire our fleet for specific challenges or to organisations. We never hire our products for extreme challenges such as mud runners, mountain climbs etc.
If you do hire a Mountain Trike or MT Push and then decide to go on and purchase one of our all terrain wheelchair products we will deduct *£100 two-day hire fee off the purchase price. To help assist with purchasing we also offer 0% finance packages (UK only). Further detail, here.
Our peak season is May – October. Please contact us with your preferred dates and we will do our best to accommodate your dates.
Two days Hire – £100 Plus £90 delivery/collection (this charge maybe higher for remote locations)
5 day Hire – £175 plus £90 delivery/collection (this charge maybe higher for remote locations)
9 day Hire -£250 plus £90 delivery/collection (this charge maybe higher for remote locations)
*Please note this offer is only available for one hire period and if the Mountain Trike is then purchased direct from Mountain Trike HQ.
Click here to contact us about hiring a Mountain Trike or MT Push and include any dates you have in mind and which product you'd like to hire.
Additional Information:
There is an additional charge of £90 for the courier delivery and collection to anywhere in the UK but this is free if you collect and drop it off yourself, why not swing by and say hello? If you live in a remote location the delivery and collection charge maybe higher so please enquire to find out an exact cost.
Due to high demand, you can only hire for a maximum of 9 days.
The Mountain Trike lever drive will be delivered with a push handle accessory, please ensure this is returned. This is an accessory and not a standard fitting. If you go onto purchase and wish to have the push handle you will need to add it as an accessory as part of your order form.
Please note that the Trike will be delivered in a box weighing 26kg and measures 89cm x 76cm x 74 cm. You will need assistance to get the Trike out of the box so we always recommend that you have someone to help. PLEASE ENSURE THAT YOU KEEP THE HIRE BOX SO THAT YOU CAN RETURN THE TRIKE IN THE BOX PROVIDED. Failure to do so could result in additional charges.
We have a list of venues in locations around the UK who have our all terrain wheelchairs available for public use, for hire or who offer demonstrations. Please contact the organisation for further information.
If you live outside the UK check to see if there is a distributor in your country and you can arrange a demo direct with them.
Here is what our Hire customers have said:
"It is an incredible piece of kit! For years Jimmy and I have wanted to find a way that we can walk off the roads together and we hoped that by the time we have a family we would have found a way to do this! Sharing my regular dog walks with Jimmy over the last few days has been amazing! It just means so much! He hasn't been in the woods like that since his accident! It has opened up so many doors and I can't wait to get our own and to go on so many more adventures!" ~Amelia Goddard

"We hired the Mountain Trike for a weekend and it was a great – the Trike was much admired. My niece loved her hawk walk and got to handle lots of owls. I even got in the action!! We are now looking at charities that could help fund a Trike as now we've tried it we want one!" ~Jackie Larkin
Download our handy hire leaflet to keep to hand if you've thinking of hiring a Mountain Trike: