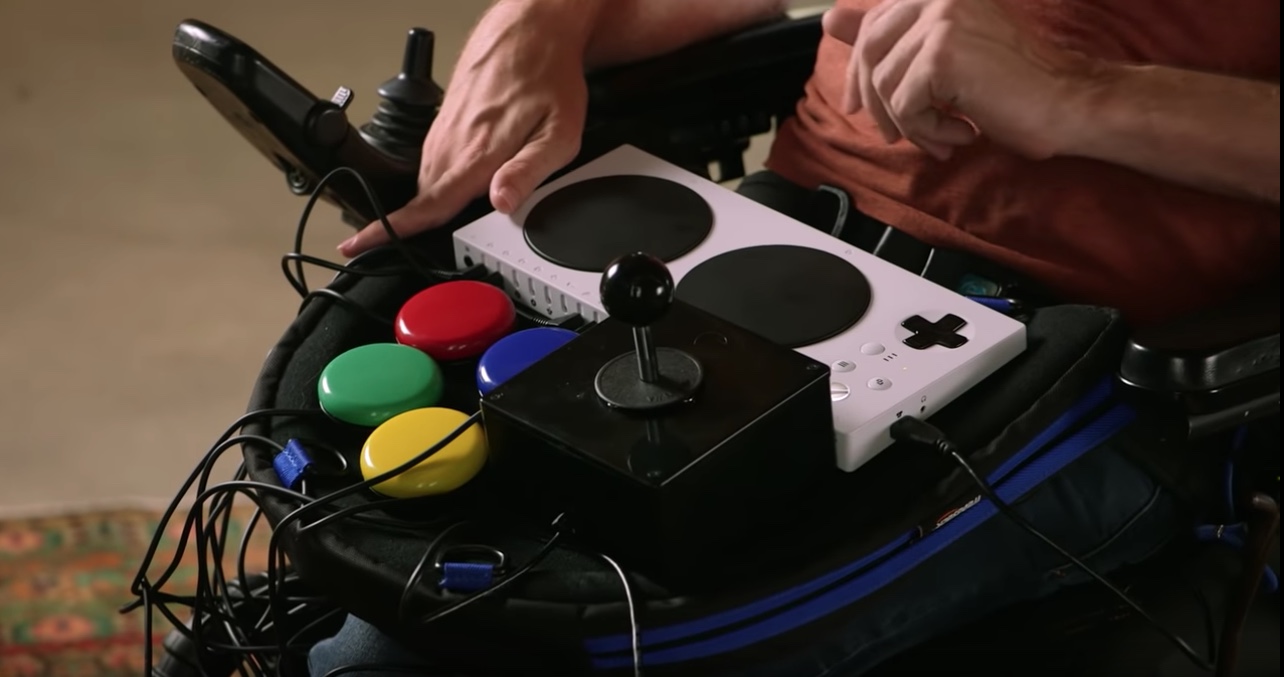 It is our pleasure to announce the Trabasack Curve Connect is to be recognised as an official Microsoft Xbox accessory!
In a recent video posted on Youtube via the official Microsoft channel, we meet Zach Anner; comedian and abundantly charming internet personality, as he uses what he himself describes as "15 minutes of training" in video game play, alongside our Trabasack Curve Connect, to take on long-time friend (and life-long gamer) Josh Flanagan in an Xbox One "Killer Instinct" showdown of skill, and pure gaming defiance!
Zach Anner is a California-based celebrity polymath with cerebral palsy, but foremost a notable comedian, whose Youtube channel has racked-up millions of views and over 350k subscribers. His videos and vlogs offer viewers everything from insightful and unique informal chats about life-lessons and living with disability in young adulthood, to his weekly "WOW" (Workout Wednesday) episodes, where Zach defies general fitness ideals by using his relentless, self deprecating humour, and it has to be noted, impressive upper-body strength, to bring hilarious workout tips and truly endearing moments of pure personality to his viewers.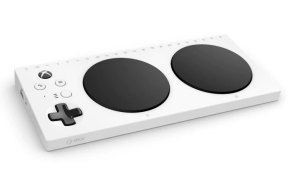 This official Microsoft video showcases a whole plethora of accessible gaming equipment alongside the Trabasack Curve Connect, and Zach's sweet gaming set-up includes the new Microsoft Adaptive Controller; a gorgeous-looking piece of gaming kit that has been designed specifically for players with physical, motor and developmental disabilities. The slim, modular shape and slick two-tone design gives the Xbox Adaptive Controller (XAC) a truly contemporary tech aesthetic, yet the large domed buttons, over-sized glossy D-pad and USB ports for connecting an additional analog stick provide the practical support needed for high-energy competitive gameplay (or steady control over your mage or ranger if RPGs are more your thing!).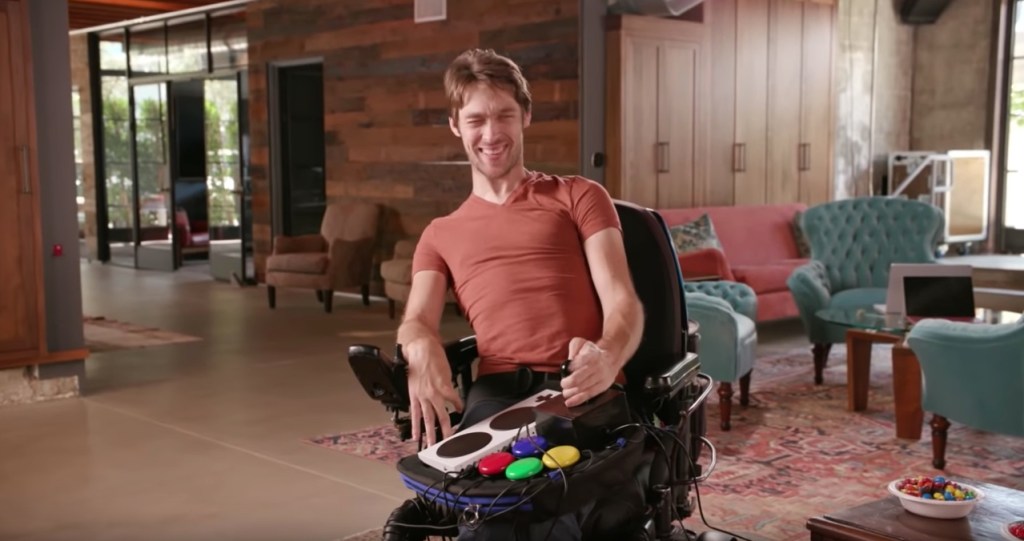 Other accessible gaming accessories used in Zach's video include the Ultimarc Ultra-Stik+ which features a switch interface and a velcro bottom – making it an ideal gaming companion to the Trabasack "Connect" range. Zach also uses a number of "Buddy Button" switches which are available in a range of colours that can be chosen to correspond with the action buttons on a traditional Xbox controller.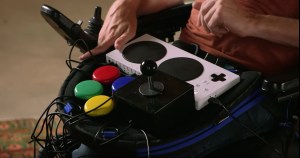 Our Trabasack Curve Connect lapdesk and bag-in-one was created with so many practical uses in mind, and of course it is testament to its design that it lends itself so perfectly to becoming a new staple gaming accessory to the many people with disabilities whom enjoy engaging in gaming of all genres. As you can see from the Microsoft video, the large lapdesk surface of the Curve Connect, teamed with the ergonomic shape means gamers are provided with the space and comfort needed to utilise alternative forms of gaming controller with ease, and side straps teamed with the bean bag inserts will always ensure that the Curve Connect stays steady and secure up on your lap.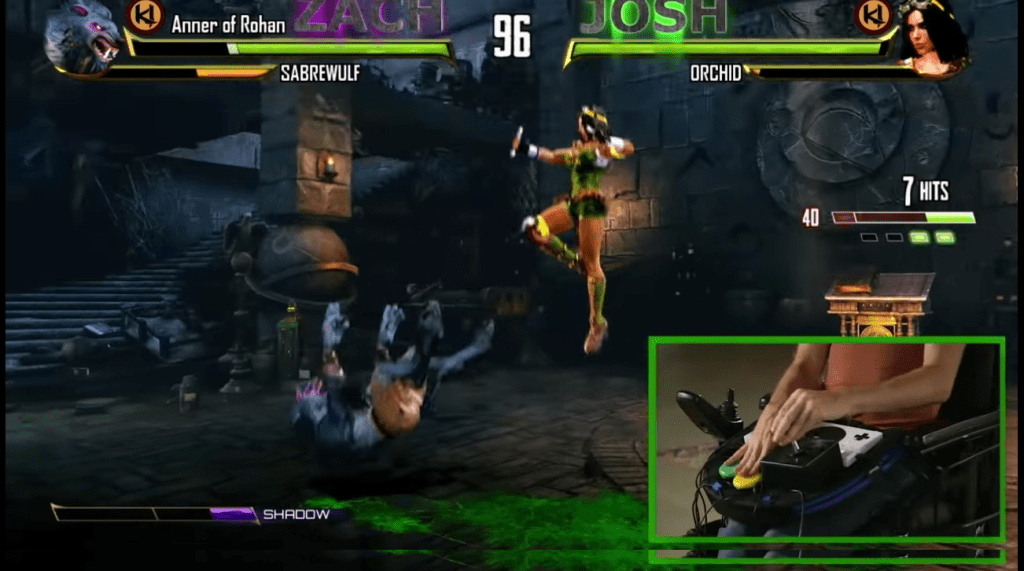 The velcro-receptive tray surface of the Curve Connect means all equipment can be swiftly secured or even removed and exchanged depending on the gaming conditions, and the internal, zip-up bag compartment is spacious enough to store controllers and even portable consoles such as the Nintendo Switch, so you can pack-up your gear and go to gaming sessions with your buddies wherever and whenever you desire!
If accessible gaming sounds like your kind of thing, and you are curious about which Trabasack is best for your XAC gaming set up, please check out our page here which details all your options!

We know that the perpetual development of technology can often leave most of us by the way-side when it comes to keeping up-to-date with equipment options and gaming specs, and that's why we whole-heartedly recommend anybody with a disability who loves to game, or is just interested in trying console gaming for the first time, to take a look at the Special Effect charity website. The Special Effect team, alongside assistance from your local Occupational Therapist, can provide you with all the support and information needed to ensure everyone, no matter their ability, is offered a fair chance to explore the satisfaction, euphoria, magic and even social affinity that gaming can bring.
We were given such joy to see Zach Anner using our Trabsack Curve Connect, and it is truly thrilling for us to think of how the Trabasack may now provide so many shared moments of enjoyment, exhilaration and gaming triumph for gamers with disabilities across the world.
The post Which Lapdesk is Zach Anner Using in the XAC Video? appeared first on Trabasack – Lap Desk and Bag in One.