The Mountain Trike Company produce and manufacture all terrain wheelchairs which are designed to travel over uneven ground, offering wheelchair users inclusive access to the great outdoors.
The Mountain Trike wheelchairs are sold worldwide, either directly to customers, or through a distributor network and the company have been working with organisations throughout the UK setting up Mountain Trike Experience Centres, where fleets of Mountain Trike wheelchairs are available for demos or hires.
The latest organisation to come onboard as an experience centre in the UK is Castle Semple Visitor Centre at Clyde Muirshiel Regional Park, which is located at Lochwinnoch, Renfrewshire, Scotland. The centre offers a range of accessible outdoor activities on Castle Semple Loch and has specialist staff, facilities and equipment to accommodate people of all abilities.
The centre recently secured funding to acquire 3 Mountain Trike wheelchairs. Their fleet consisting of 2 standard lever propelled Mountain Trikes (MT's) and 1 MT Evo (which is a lever propelled Mountain Trike designed for use by tetraplegics).
The Mountain Trikes will be available for use by the many students who visit Castle Semple and additionally, other visitors to the centre will be able to hire the trikes and receive demos if required.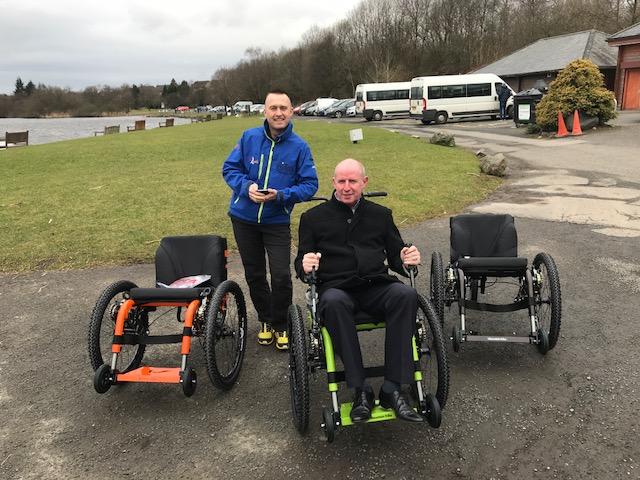 Castle Semple Visitor Centre and Country Park is the gateway to the largest regional park in Scotland and with 108 square  miles of scenic Scottish countryside, it is the ideal location for the Mountain Trike all terrain wheelchair.
David Hill, Senior Instruction at the Castle Semple Centre and who was instrumental in securing the all terrain wheelchairs for the centre says,"I have been in discussion with the guys at Mountain Trike for sometime now, I could immediately see the benefit of having a fleet here at Castle Semple when I had a demonstration of their products.  Having access to the outdoors is so important to everyone and the vast park area here at Castle Semple will be perfect to explore with the Mountain Trike.  We have lots of experience and specialist staff since we became Scotland's first Royal Yatching Association Sailability 'Centre of Excellence' in 2012, so have facilities already in place for those less able.  I was thrilled when I heard that we had received the funding for our own fleet –  I can't wait for them to start being used and to get them dirty!"
Roger Crawford, Sales Manager at the Mountain Trike Company and who is responsible for setting up the UK Experience Centres, recently hand-delivered the Mountain Trike wheelchairs to David at Castle Semple, goes on to say, "We are delighted to have Castle Semple as our Mountain Trike Experience Centre based in Renfrewshire, Scotland – the park is a stunning place and for anyone who enjoys the outdoors it is a great place to visit.  I have no doubt that the Mountain Trike fleet will be well used to enable wheelchair users and those with limited mobility to explore the Scottish countryside.  This will be our second Mountain Trike Experience Centre in Scotland, our other centre based at Progression Bikes, Dunkeld, Perthshire, Scotland – so its great to be expanding our Experience Centres in such a stunning and scenic area, which everyone can enjoy".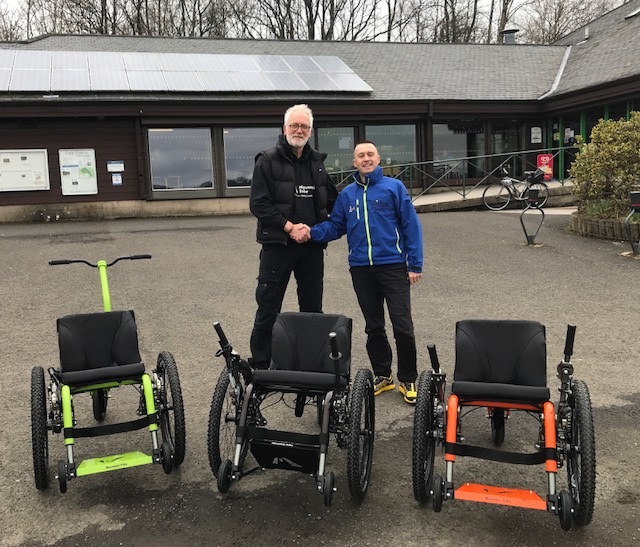 For anyone wanting to find out more information about Castle Semple please visit their website:
Clyde Muirshiel, Regional Park
For further detail about The Mountain Trike Company please visit their website, here.