Fiona Gosden is the Disability Specialist at DisabledHolidays.com and is a wheelchair user with Ollier's Disease. Fiona has travelled extensively throughout Europe and is excited about going even further afield as her confidence grows. She is keen to support others with disabilities or health conditions to enjoy independence, gain confidence, and create happy memories by encouraging people to go on holiday.
Fiona writes about her travel experiences on her blog and we invited her to share her experiences with Mountain Trike.
Before I had experienced an accessible holiday, I felt overwhelmed by the thought of travelling abroad because of my previous experiences of the barriers and challenges I had faced.
The thought of travelling highlighted my disability and I felt disadvantaged compared to my friends who were always planning to travel. I thought it was easier to accept that I would never explore the world like they could, but then I thought 'how is that fair?'.
When it was suggested that I should try cruising I imagined an over-crowded ship where I had to endlessly circle around looking for an available sunbed and feeling claustrophobic whilst away from land. I also imagined being restricted to staying on board because of excursions not being accessible – and what about if I couldn't access all the areas of the ship?
I couldn't have been more wrong!
"I'm now a cruise-convert"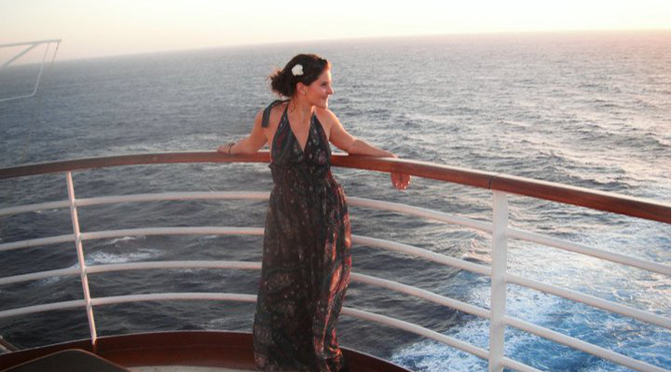 I know others with a disability can experience the same anxieties about going on holiday, and I can completely relate to it, but I hope that this blog will reassure you that with a bit of planning and careful selection about which companies you book with, everyone can enjoy a wonderful accessible holiday. Despite my pre-conceptions about cruises, I am now a complete cruise convert – they are an absolutely fantastic option for an accessible holiday!
Here are some of the reasons I love cruises:
Accessible cabins – many ships have accessible cabins, and the newer ships in particular are excellent. They are larger than standard cabins, have wide doorways and a fully adapted wet-room with roll in shower. There are even companies that will allow you to hire equipment and deliver it to the cabin, including hoists and electric beds! It's a wonderful feeling not having to worry about accommodation accessibility, especially if you have a balcony cabin to just sit and watch the world go by!
Visiting the world without having to fly, and only unpacking once! I have found long flights to be very uncomfortable and thought that there would be countries I could never visit, but cruising takes you to the locations you want to go – what can be better than having locations brought to the doorstep of your luxurious floating hotel!
Floating from city to city and island to island without having to consider the accessibility of buses, trains and ferries. Before cruising I often found it impossible to get to a bus stop let alone get on the bus, but when cruising adapted shuttle buses come to the ship so you can explore your destination without barriers.
Waking up to a new exciting place every morning and exploring a wide range of adapted excursions. The first time I cruised I didn't realise that there were adapted excursions and I felt limited by barriers after I'd be dropped into a city on the adapted shuttle bus. I have now discovered adapted excursions which can be booked before your holiday to avoid stress and disappointment, and are a great way to see new countries and cities.
Relaxing on-board your floating hotel. I didn't know what to expect when I heard that cruising was like being on a 'floating hotel'. On board most cruise ships there is a huge choice of activities which are all accessible, including entertainment, shops, indoor and outdoor cinemas, swimming pools, a huge choice of restaurants and bars, outdoor activities and spas. The range of entertainment is genuinely staggering and the food in the restaurants is some of the best I've had; you could stay on the ship for days and still have more to do.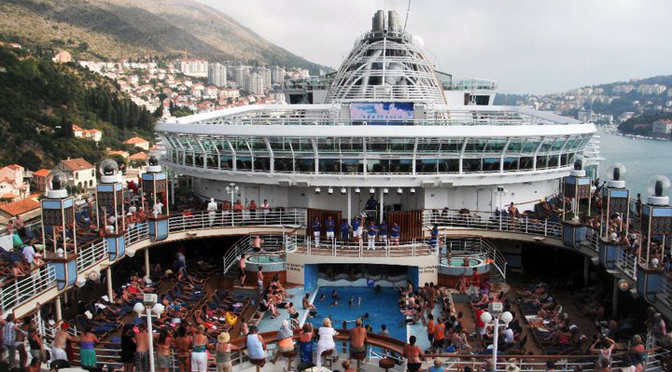 I have discovered that travelling with a disability is easier than I thought and it has helped me to discover who I am in a way that only a holiday adventure can bring. I haven't felt like my disability is my identity since travelling and there are always stories and memories to share which means I can join in when my friends chat about their travelling experiences.
I am delighted to say I now work as Disability Specialist at DisabledHolidays.com (the UK's largest travel company specialising in holidays for people with disabilities and mobility impairments), and I can use my experience to help even more people with a disability or health condition to experience a perfect holiday.
Working here has really opened my eyes; there's so much more than I ever thought would be possible, not just in the UK but abroad too – from adapted cottages and caravans to villas and hotels (and even adapted skiing and safaris) – and , of course, cruises!
I want to enable others to experience the satisfaction I feel when I finish a trip and look back at everything I have been able to accomplish; a disability does not have to be a barrier to going on holiday. This satisfaction gives me the energy and motivation to plan future travels without feeling restricted.
If you want to find out further information Fiona would be delighted to chat about her experiences and offer tips and advice – drop her an email fiona@disabledholidays.com.