My Mountain Trike All Terrain Wheelchair:
When Tim Morgan & Roger Crawford, of Mountain Trike, asked me if I would be willing to write a testimonial extolling the virtue of my Mountain Trike All Terrain Wheelchair, I jumped at the opportunity. Having waxed lyrical about my Mountain Trike to all and sundry, I thought this would be a great opportunity to reach a wider audience!
So where to begin? I suppose a little information about myself, my positive experience when dealing with Tim & Roger and most importantly; my love affair with my incredible Mountain Trike wheelchair will bring the whole thing into context.
About me:
I'm a 65 year old man and I suffer from an inflammatory arthritic condition together with a degenerate spinal disease. In my younger years, and up to the age of 40, I was a competitive athlete with Reading Athletic Club running over various distances on the track, road & cross country. So when I developed the above medical conditions and had to give up athletics life became very different. Over time I had to rely more and more on other people to carry out everyday tasks for me and eventually I needed a walking frame, mobility scooter and more recently a wheelchair. Initially not being able to go out running in the fresh air and countryside anymore and the freedom that gave me was a big blow. But I quickly became aware that I was very lucky to have been able to do so in the first place and for so many years. Using my mobility scooter was fine, but not really what I was looking for. I wanted something that would keep me active, that I could use under my own steam and also go off road. The search was long and hard and over this period I trialled a number of wheelchairs including off road models without success.
Then just over a year ago and quite by chance things changed.
Tim Morgan & Roger Crawford from The Mountain Trike Company:
I was looking at a disability magazine and came across an article about a disabled man who had just scaled Kilimanjaro, with a team of helpers, in an all terrain wheelchair. This piqued my curiosity, so I read the article to discover that he did this incredible feat in a recently developed all terrain wheelchair called a Mountain Trike. Reading this article and my subsequent meeting with Roger Crawford from Mountain Trike turned my life around. I initially contacted Mountain Trike to ask if they would be prepared to travel down to Reading, not an insignificant journey, to demonstrate the wheelchair and to give me a chance to try it out. Mountain Trike agreed, without hesitation and without strings attached. Hence my first meeting with Roger Crawford. Roger was extremely, helpful, professional, knowledgable, friendly and above all he did not apply any pressure on me to make a decision immediately. I had ample time to try out the Mountain Trike and discover it's capabilities. Following this meeting I decided to hire one for a few days to ensure it was right for me. From that point onwards it was a no brainer and I placed an order straight away. From the time I placed my order with Mountain Trike they could not have been more supportive and helpful. They adapted the Mountain Trike specifications to meet my needs and fitted an extendable foot plate and increased the height of the back rest at no extra charge. They also provided regular updates as to the progress of the build and once completed they sent me a photograph of the finished Trike. I also opted for the Multi Rack which comes with a detachable push handle. To be honest, I haven't used the push handle yet, but I think it will be a great addition to turn to later in life or if my medical condition deteriorates. The Multi Rack is a great addition for carrying things when I go shopping or on days out for a picnic. On the day of delivery, the Mountain Trike was securely packaged and built exactly as I ordered.
How the Mountain Trike has improved my quality of life:
I've achieved so much with my Mountain Trike since I took delivery of it just over a year ago. Initially, so as not to over do it and risk a flare up, I decided to take things very cautiously by gradually building up the time I spent using my trike each day. I considered the best way to achieve this was to set myself a training schedule beginning with five minutes going out from home and five minutes back again on level terrain and increasing the time in increments each day. The time spent pushing soon built up and over the next few weeks and months I gradually increased the time of each session, and with it my strength and stamina until eventually I could go out on my Mountain Trike, independently, for a couple of hours and more and push over any terrain. I then built into the schedule hill repetitions and it's brilliant to be able to do this in my local woods and surrounding lanes. I haven't felt healthier or fitter for many years.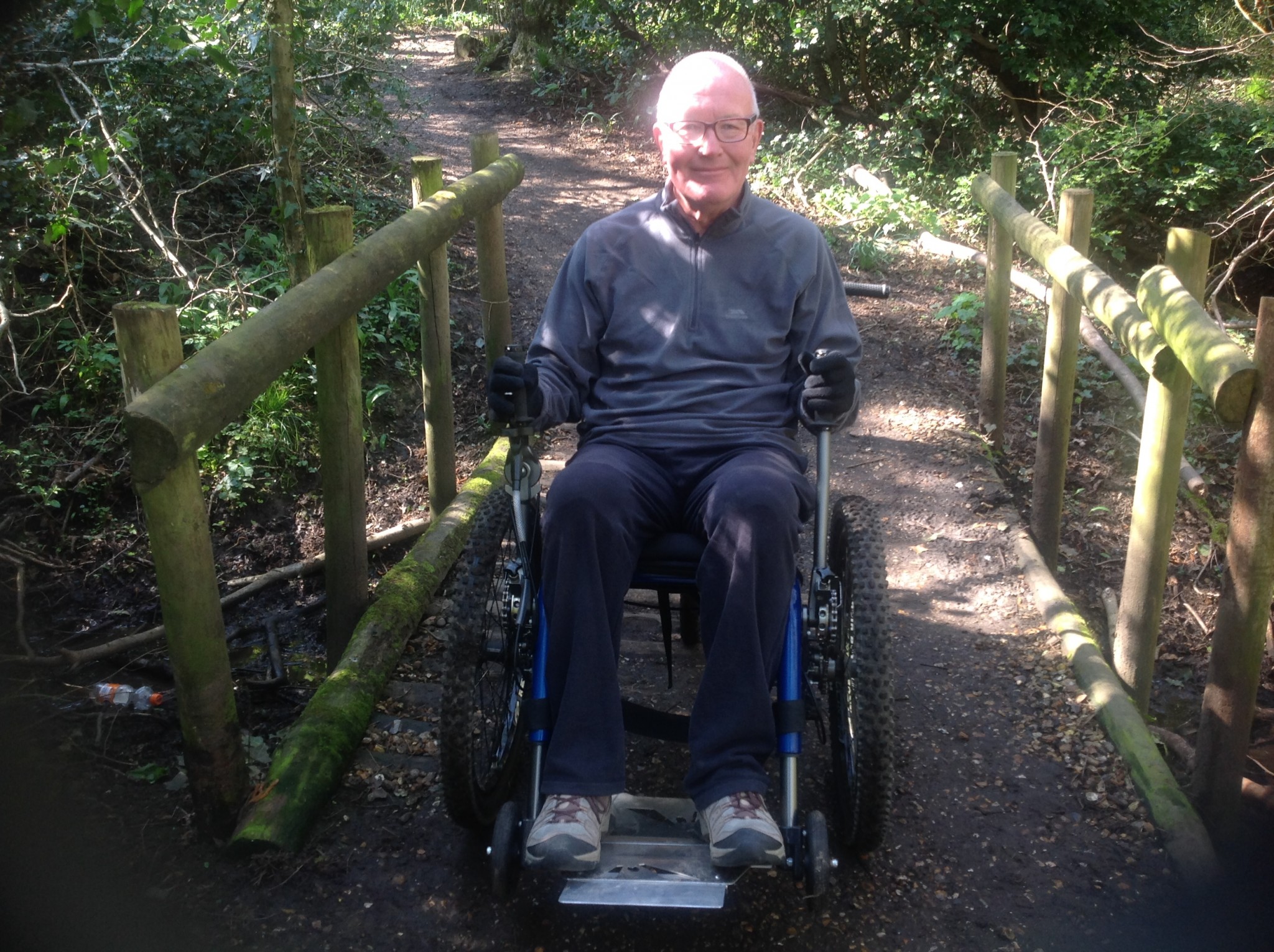 Following a training schedule may not be for everyone, but it's certainly worked for me and enables me to get the most enjoyment out of my Mountain Trike that it has to offer. Apart, from the training schedule aspect, my Mountain Trike is fantastic to use socially, when going out with family and friends or popping to the shops. Due to its lightness, my wife is able to load the trike into the boot of our car without any problems and with very little effort. In fact she finds it a lot easier to lift and manoeuvre the Mountain Trike than she did my portable mobility scooter. Taking the trike on holiday is another great treat. We visit Cyprus a couple of times each year, to try and shorten our winter months, and the trike fares well at the airport and travels well in the hold of the plane. When we arrive at Cyprus airport, the trike is waiting for me in the lift at the plane's door and away I go. Then, it's just a matter of travelling to our destination in an adapted taxi, which we book in advance.
The Mountain Trike attracts so much interest amongst the holiday makers and locals alike and we have made many new friends along the way.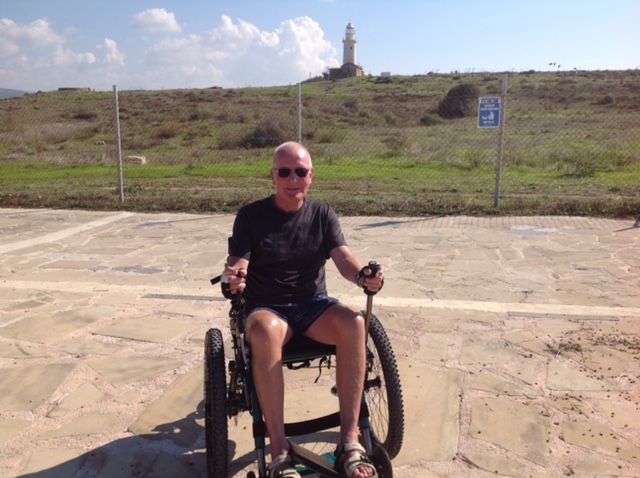 So what does the future have in store for me and my Mountain Trike?
My Mountain Trike has allowed me, for the first time in a long time, to plan for the future and I'm now hoping to raise funds for charity. My chosen charity is "The Back Up Trust'', which is a national charity that helps people of all ages and backgrounds rebuild their confidence and independence after a spinal cord injury. My objectives, over the next year or so, is to compete in 10k road races and Half Marathon events.
I'm also planning on conquering Mount Snowdon by taking part in the Back Up Trust annual Snowdon push. But most of all I'm looking forward to enjoying myself and getting out and about in my Mountain Trike All Terrain Wheelchair and living life to the full.
Thank you for reading.
Jeremy Randall July 2016