News Summary: Mountain Trike Company partner with Specialsed Orthotic Services as specialist seating provider
Photos: The MT Push fitted with a bespoke seat
Full Story:
Bespoke seating available for Mountain Trike Company's MT Push model
The Mountain Trike Company who manufacture and make all-terrain wheelchairs have announced their link with specialist seating company, Special Orthotic Services Ltd (SOS), who have been providing clinical services for the assessment and manufacture of special seating systems for over 30 years and are recognised as experts in this challenging area of seating.
SOS will predominately provide special seating for the MT Push product ranges, which is the Mountain Trike Company's version of an attendant chair.  SOS will have their own demonstration model of the MT Push to enable customers to try the chair and find a seating solution to suit their specific requirements.  A bracket and clamp system has been specially made which will allow the user to fit their own specialist custom moulded seat to the MT Push.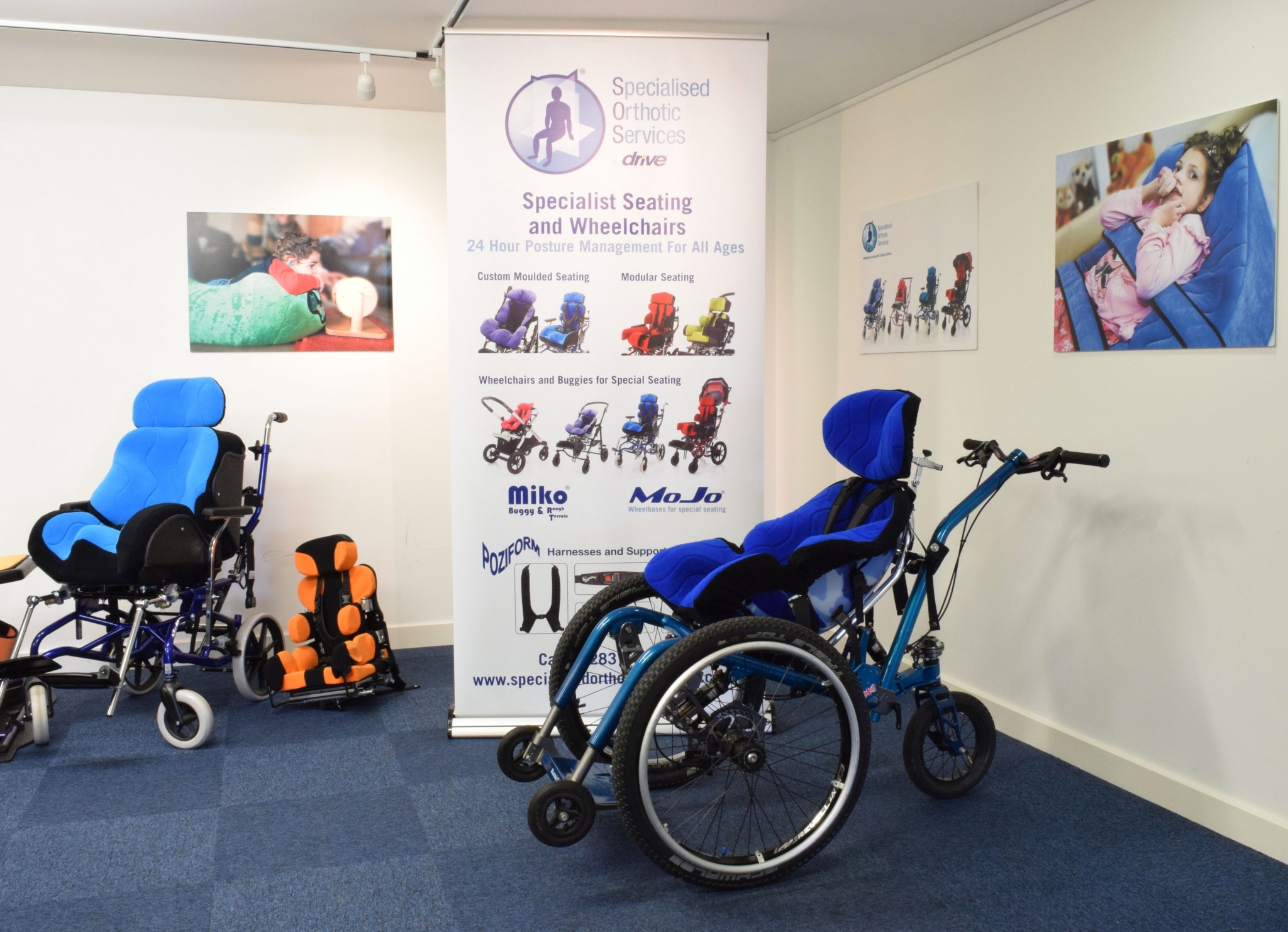 The MT Push is an all-terrain attendant wheelchair – or buddy chair.  It has very similar features to that of the Mountain Trike – robust lightweight frame, high-end mountain bike technology such as disc brakes for all weather control and braking and air suspension to give the user a smooth and comfortable ride.  Instead of having the unique lever drive system where riders can propel themselves leaving them with clean hands, there is a removable adjustable push handle located behind the user and this is where the steering and braking takes place by the riders buddy.  There are adjustable armrests for rider comfort and wheel rims.  The MT Push provides inclusive access to a wide variety of terrain – mud, gravel, grass, snow, sand and uneven pathways.
Talking about the new partnership, Managing Director, Tim Morgan at Mountain Trike says,
"Since launching the MT Push last year we have had a far greater number of individual customers contact us than expected – our initial research for this product were for outdoor organisations to enable them to offer their visitors a better experience at their venues.  But we have been delighted with the response from individual customers who can see the benefit the MT Push can give them in terms of enjoying the great outdoors with friends and family.  However, some individual customers when trying the MT Push have more specific requirements to suit their needs such as higher seat backs or deeper seats – we try hard to accommodate all individual needs, but when it comes to more niche requirements for the comfort and safety of our customers I thought it would be better to try and link with a specialist in this area.  SOS is a fantastic organisation, their experience and understanding in this field is outstanding – as is their customer care.  Being a UK manufacturer is also another great positive for Mountain Trike.  We already have customers talking to SOS about their requirements and I'm delighted to welcome SOS as our specialised seating partner – it's another fantastic area for us to be able to offer this bespoke service for our customers."
Mark Amos, Business Development Manager, from SOS, says,
"We're delighted to be a distributor and partner as the specialist seating provider for the Mountain Trike Company.  Their products and innovation in this mobility sector is exceptional.  It's great to see that UK manufacturing is still going strong – even in these niche environments.  The knowledge and experience we have in this area will mean we can provide a first class service for individuals looking for specific seating requirements for their Trike's and I'm looking forward to developing the partnership with Mountain Trike."
For further information about the Mountain Trike Company please visit their website www.mountaintrike.com or email info@mountaintrike.co.uk and for more information about SOS please visit http://www.specialisedorthoticservices.co.uk/ or email enquiries@specialorthotic.com