So, what is so special about the unique lever drive system of the Mountain Trike?
In our experience the Mountain Trike with its lever drive system is easier to propel than pushing hand rims.  It is a more ergonomic position and is not reliant on your hand grip to push.  Its just a simple 'bench press' type motion and the other main benefit is that you keep your hands clean as you're not touching the wheels so have great drive in all weathers.
The angle of the seat is set as a result of testing with 100's of different wheelchair users and finding a position that suits the best position for driving the levers.  The seat is adjustable forwards and backwards to suit your arm length for good reach to the levers.  It is possible to set the seat at different angles, which can be done at the production stage.
The Mountain Trike is set in a low geared single speed which most people find as a great all round gear for pretty much all general riding – to add a gearing system would add additional weight, cost and complexity of shift able gears.  The low gear offers great advantage for riding up steep hills and still allows travel at 5-8 mph on the flat depending on the rider and the terrain.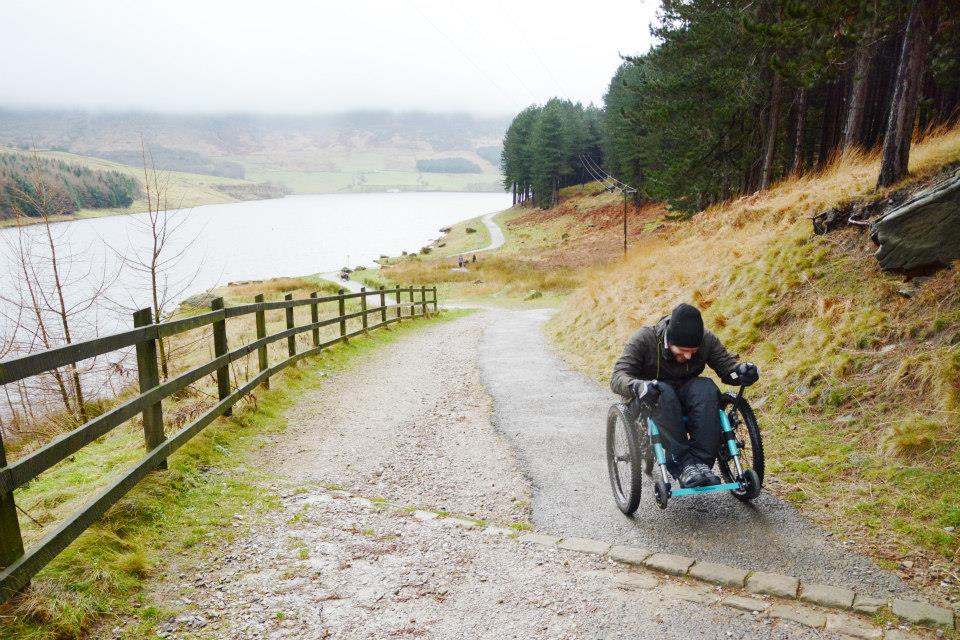 The great thing about the Mountain Trike for hill climbing is that the rear wheel prevents it tipping so you can tackle steep climbs, push as hard as you like and it won't tip.  Also, you can use the brakes between pushes to stop it rolling backwards to allow your way up steep climbs in stages.
Some upper body strength is required to propel the Mountain Trike but we have many users from as young as 11 and as old as 91!  The Mountain Trike all-terrain manual wheelchair offers a fantastic ride and a perfect choice for those wanting to avoid an electric wheelchair.
Please do get in touch via our Contact Page, to discuss your specific requirements and in the meantime take a look at our other postings in our 'Videos' section for further riding tips.