We are delighted that the Mobility Roadshow is back for 2015.  The show organisers took a break last year and we missed it not being in our event calendar – as I am sure other exhibitors did and visitors too.  This year the show is taking place in Donnington Park 25-27 June 2015 and is open daily from 10am and we can't wait!  For more information please visit their website here.
We are going to be at the Mobility Roadshow for the duration exhibiting at Stand 11 – we'll be on hand to discuss and demo our Mountain Trike product ranges and we've been busy in the factory building new models.
As well as the Mountain Trike we'll be bringing our two new product launches and are excited about showcasing them to you:
MT Push, our buddy chair –  has been adapted to enable people who still want to enjoy the countryside but who need a little more help to be pushed over uneven ground.  Using very similar technology to that of the Mountain Trike you can be guaranteed of a comfortable, safe ride – the push handle located behind the user is where the steering and braking takes place by the riders buddy and the lever drive system has been replaced with adjustable armrests.  If you are keen to access a wide variety of terrain – mud, gravel , grass, snow, sand and uneven pathways then the MT Push could be just what you need – come by and test ride one at the show.
MT Evo, for riders with limited hand function – working closely with tetraplegics, quads and various people with limited hand function we have developed the MT Evo.  Offering the same excellent all terrain performance to that of the Mountain Trike, but with even simpler controls.  We recommend the use of a gripping aid in order to operate the brakes and steering – a simple pivoting handle operates the disc brakes by moving your arm inwards, the system requires no finger function to operate.  The simple steering gives excellent control for smooth turns and an easy ride across slopes and ergonomic loops give a great easy to use method of drive engagement for a wide range of people with limited hand function.  Disc brakes gives the rider great control and braking in all weather, over difficult ground and steep hills – these are adaptable and adjustable for each user and air suspension gives the rider a smooth and comfortable ride when riding over rough terrain, rocks and tree roots or dropping off curbs, riding over cobbles with confidence knowing that the Trike is highly stable.  The MT Evo is perfect for outdoor everyday use, whether it be a muddy woodland trail, a trip to the shops or a walk in the park – the unique lever drive system allows the rider to have clean dry hands whatever the terrain!
We'll have our all-terrain obstacle course set up at the event so you can test any of our products and get a feel for their performance.
When we exhibit at events we often get asked if our Trike demo models are for sale and can be taken away there and then.  Well, at the Mobility Roadshow we will have a fully made up Mountain Trike ready to be purchased by one lucky customer.
This striking Emerald Green Mountain Trike will be available to 'BUY NOW' at the Mobility Roadshow.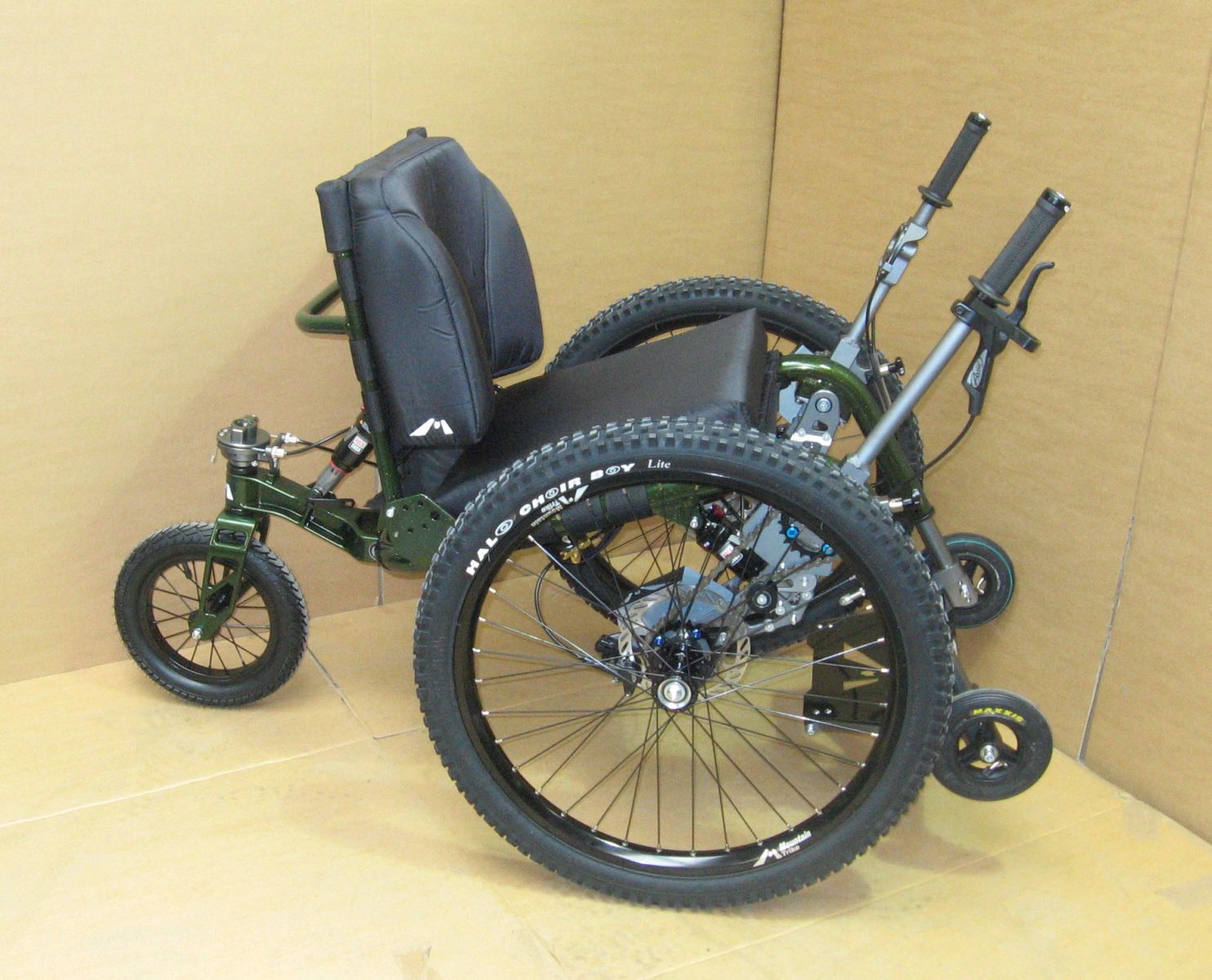 We hope you can make it to the Mobility Roadshow – it sounds like the organisers have lots going on.  We'd love to see you, so please pop by to our stand – check out our products, try one out or just come and have a chat with us.
See you there!