We can easily say that Craig Grimes is one of our biggest ambassadors – he loves the outdoors and loves sharing his experiences with others.  As well as being a huge advocate of trying to make the countryside more accessible he runs Experience Community and organises wheelchair rambles and offers demos and hire options of the Mountain Trike.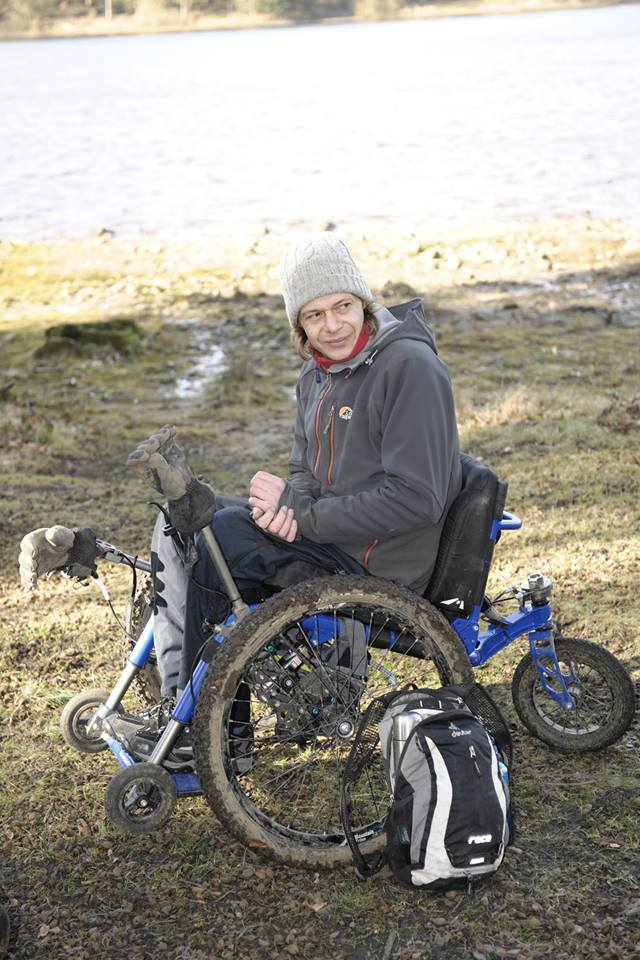 Read on to learn more about his outdoor passion…
"I first became aware that the Mountain Trike existed a few years back when I met Tim Morgan, its inventor, at a mobility event. After a brief conversation I jumped into the Mountain Trike for the very first time and I was hooked. Although we were in a tarmac car park I could see the Trike's potential and benefits for both my social and working life. Eventually I applied to Access to Work for a grant to pay for the Mountain Trike so that I could use it when running an 'assisted campsite' at music festivals and also as a means to access the countryside. What I didn't realise at this time, was just how much it would get me back to the places I love to visit in the great outdoors.
When I had my accident in 1997 which left me needing to use a wheelchair, nothing like the Mountain Trike existed, which ended my career plans to go into conservation. I remember being upset at the thought that I'd never be able to walk on a glacier again as I had done a few years previously. The Mountain Trike has enabled me to stay active and to access the countryside again in a way that I never imagined that I would be able to. I can climb and descend steep slopes, go into woodlands even if there isn't a clear path, negotiate rutted tracks, plough through deep mud and then go through streams to clean the mud off my Trike, things I would never be able to do in my day chair.
Since July 2014, my organisation, Experience Community CIC has been running outdoor 'walks' for disabled people in the Huddersfield area in Country Parks and along canal towpaths. I decided that I wanted to share my experiences of using my Mountain Trike with people who own their own Trikes, so I set up a Ramble. The response was great and it was amazing to see so many Mountain Trike users out together who were able to exchange ideas on places to use the Trike and give each other tips and advice about maintenance of the equipment.
We now run the rambles every week at a variety of locations across the north of England and we also have several Trikes that we can hire out to people who want to join us so they can also enjoy the British countryside. We're also setting up drop in centres twice a week in Huddersfield so that people can come and learn to use the Mountain Trike so that they then have the confidence to come out on our longer rambles.
It sounds corny, but the Mountain Trike has changed my outlook on independently accessing difficult terrain in the countryside. I now know that I can start getting back to the places I love and who knows, maybe one day I'll get to take my Trike onto a glacier in Norway or Iceland and fulfil my dream to be able to do that again."
Craig runs organised group activities most weekends, if you are interested in joining a ramble with Craig and a group of like-minded people then get in touch via his website: Experience Community and he'll be more than happy to share his countryside love and take you on a Mountain Trike adventure…