We are always on the look-out for innovative and inclusive new products to add to our collection here at Trabasack, and when we first heard about the stunning range of Samantha Renke bags we instantly knew they were perfect for our store.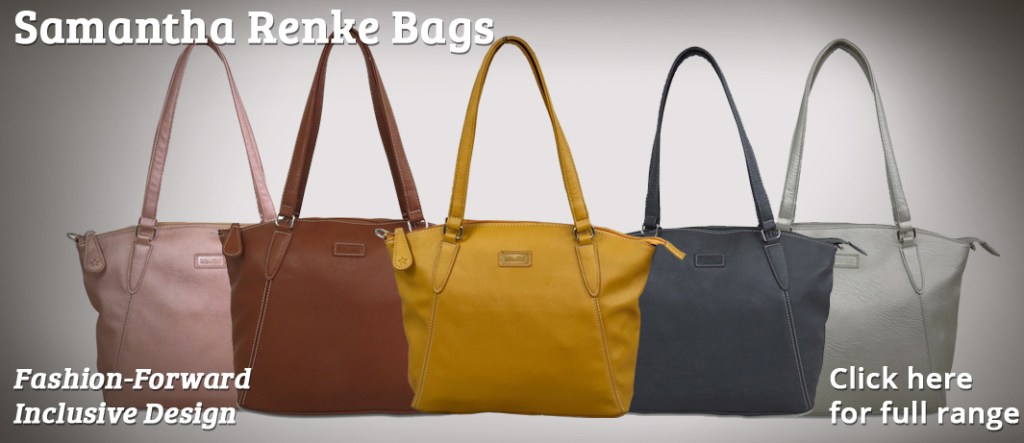 Sam Renke is a world-renowned actress and disability campaigner, and after many years of a fruitless search for a handbag that was both accessible for disabled people as well as being fashion-forward and stylish, Sam decided to take the art of design into her own hands and created her gorgeous range of contemporary handbags.
The Samantha Renke range of bags would not look out-of-place sold amongst designer or high-end high street retailers – Sam has clearly applied her own personal, fashionista stylings to her range whilst also utilising her experience as a disabled person to create a truly inclusive handbag brimming with helpful features to make everyday life easier.
Accessible and Inclusive features include:
1. Matching Clutch Bag
2. High-contrast interior lining
3. Large, fabric zip-pulls
4. Hidden zip-pocket for private/sensitive items
5. Insulated bottle holder
6. EXCLUSIVE TO TRABASACK.COM – Free set of detachable wheelchair straps with mobility clips (our 'side straps')
7. Elasticated key chain
8. Pen holder
9. Mobile phone pocket
10. Made from Vegan-friendly soft faux-leather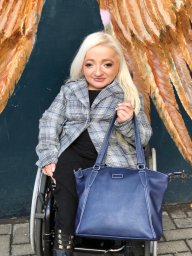 Please have a look at our extensive range of Sam Renke bags for sale here, at Trabasack.  Please do note that although the Sam Renke bag is one of our favourite inclusive fashion accessories, unlike our other bags it does not include a built-in tray – so do also consider the Trabasack Curve with purple trim for your wheelchair tray and bag in one!
The post Samantha Renke Bags – For Sale Now at Trabasack.com appeared first on Trabasack – Lap Desk and Bag in One.