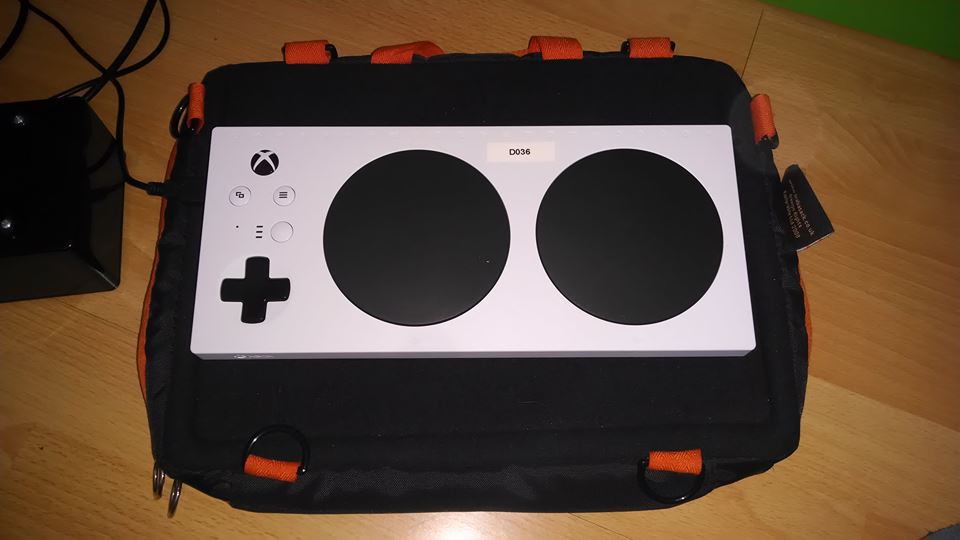 The new Microsoft Adaptive Controller promises to help to bring gaming to a much wider audience of gamers with physical challenges. Although it still relies on a wide network of customised controllers built by third parties, the controller will help to bring many different types of interface together and make integration with console and PC games much easier.
If you haven't seen the product yet, check out this great video from Microsoft, or read more about the product's development on their website:
The controller is solidly built and has both rubberised feet (great to minimise slipping) and a mounting system enabling it to be physically mounted to various surfaces at any angle. As a whole, we give a warm welcome to another little stride forward for those who enjoy gaming but find it difficult to interact with the control systems demanded by many modern games.
Designed to be placed on and used on a surface rather, it is starkly different to the fiddly, handheld controllers that have kept gaming out of reach for many ablegamers/disabled gamers. It is hoped it will help create a new category of special control interfaces for games that will be much more inclusive of all kinds of physical or mental impairment – enabling access to rich, fulfilling, sensory experiences.
So, the Adaptive Controller comes with rubberised feet, but will still need a handy place for it to be rested that is comfortable and practical for the user. And that's where our old friend the Trabasack Curve or the Trabasack Mini (what else!) comes in.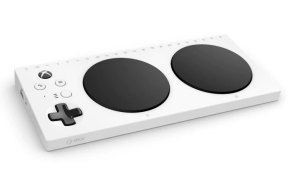 The Trabasack's comfortable, ergonomic design means it is perfect for placing on either a solid surface or the user's lap. With a soft, durable backing that moulds to any surface, it is an ideal tray for a controller – adaptive or otherwise – and ensures comfort for prolonged periods of play (which as gamers of any ability will tell you can be a long time). Even for gamers without pronounced physical disabilities, the Trabasack is a great lap tray for car journeys – making use of portal systems such as the Nintendo DS, or PS Vita much easier on the arms, wrists and neck.
Of course the Trabasack remains the only laptray designed from the ground up to be fully compatible with wheelchairs, and can be optionally secured to the user or a wheelchair or buggy with its supplied straps. This makes it a superb, comfortable and ergonomic place on which to rest your gaming controllers for disabled gamers for extended periods.
When you have finished gaming you can put the adapted xbox controller into the bag space and stow it at the back of your chair or keep it on your lap with the controller inside it and continue to use the trabasack as a tray.  Trabasack can be carried in several ways due to its configurable straps and handles. You have the versatility to carry your controller anywhere, and trabasack can be worn or carried as a backpack or left on your lap with a strap around your waist like a bumbag/fanny pack. It has the robust manufacturing you would expect from our class-leading product – making for hours of comfortable gaming and easy portability.
Not only that, but it comes with a zipped compartments which can be used to contain not just your main controller, but other peripherals and leads – making it a cinch to get up and playing within minutes, or tidied away just as quickly.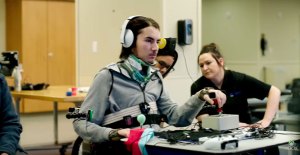 The Trabasack Mini is a stylish black lap tray, other models are available with coloured trims (curve – purple, curve connect blue or red).
We at Trabasack have been very pleased to supply to Special Effect  in UK and have sent trabasacks to the Ablegamers in USA for many years now to help facilitate adapted and accessible gaming set ups for disabled gamers. Several gaming bloggers recognised for our contributions to making gaming more accessible. Our ethos springs from our close personal experience of living with disability. As always, we'd be delighted to learn more about how you use your Trabasack for gaming if you're existing customer, or help you to access a better gaming experience if you are new to our range of lap trays.
Update : The XAC is launched!
On September 5 2018 the first XAC were received by gamers across the globe. A historic day for accessibility. I shall update this page with useful resources for using it.
Using Switches with the XAC
The charity SpecialEffect has produced this video which explains how to set up the XAC with switches and also shows some of the different types of switches that can be used with it:
We have published a new post about the different styles and models of trabasack and their uses with an XAC please click below:
The post Trabasack Curve: the Ultimate Lap Tray for Xbox Controller appeared first on Trabasack – Lap Desk and Bag in One.