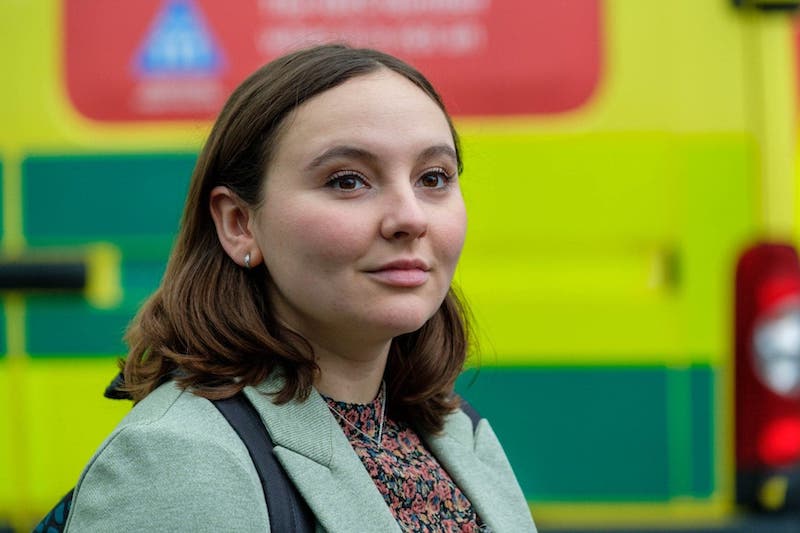 Gabriella Leon is a deaf actress and theatre maker, best known for playing junior nurse Jade Lovall in the medical drama Casualty.
Our writer and Casualty fan, Emma Purcell, got the chance to interview Gabriella Leon about living with her hearing impairment, her career as an actress and theatre maker and her thoughts on deaf representation in the media.
Gabriella Leon is 25 years old and from Warrington, Cheshire. She was born with the ear condition Cookie-Bite Syndrome, in which she has difficulty hearing mid-range frequencies.
At aged eight, she began acting lessons and in 2016 she went onto graduate with a degree from East 15 Acting School at Essex University.
Gabriella performed in many staged productions including Little Revolution (2015), Tesla (2016), The Lesson (2017), Close (2018) and The Others (2018), which she also devised.
In May 2018, Gabriella auditioned for the role of junior nurse Jade Lovall in the BBC medical drama series Casualty. She got the part and first appeared on our screens in November 2018.
Her character has gone on to become the first disabled regular in the show's history. Not only do we see her represent the deaf community, but we also see the aftermath of Jade growing up in the care system and how she still manages to have a successful career as a nurse.
In July 2020, Casualty released a special episode created by deaf writers, which focuses on Jade's hearing loss and the audience gets to hear what noise sounds like in her world. Jade also meets her birth mother who also happens to be deaf.
Read on to find out more about Gabriella Leon in her own words.
Gabriella Leon as a deaf person
Can you tell us what is your ear condition and how it affects you on daily basis?
I was born with neurosensorial deafness called 'Cookie-Bite Syndrome' which sounds delicious! (Sadly, it's not!)  Basically, my audiogram looks like someone's taken a big bite out of my hearing, hence, 'cookie-bite', in which mid-range frequencies, for example where human speech takes place, is affected.
It's hard to say how it affects me daily, when I haven't experienced anything different, I would say my condition is a large part of who I am, and I have different methods to get me through my work and social life positively.
With my hearing aids in, communicating is much easier for me and I tend to miss out on less. I have constant tinnitus, (ringing in the ears) and hyperacusis (sensitivity to sounds above a certain volume), so that can add to my overall lip-reading fatigue.
I rely on lip-reading as my main form of communication, but also benefit greatly from using BSL and SSE, especially when working with interpreters.
Gabriella Leon becoming an actress
What inspired you to become an actress?
I have always had a great love for telling stories from a young age. That love turned into drama, dance and performing arts classes, in which I got into at the age of eight and couldn't see myself doing anything else with my life.
Your early career consisted of stage performances, short films and cooperate work. Do you have any favourite memories from then?
Every job and performance comes with really memorable moments. As a theatre maker at heart, I'm really passionate about new writing and devising work myself, so a big highlight for me would be having my work put on for new writing festivals.
The most exciting roles are yet to be written for stage or screen! I look forward to hopefully continue doing more theatre and screen work in the future.
Have all your roles been deaf characters?
Not in the character breakdowns and descriptions no. I've played a versatile range of characters who I imagined just happened to be deaf, since I'm playing them, but the character hasn't been centred around the fact that they have a disability.
My character Jade in Casualty is actually the first character I've played who is deaf like me, and it's really lovely representing that.
Gabriella Leon playing Jade Lovall on Casualty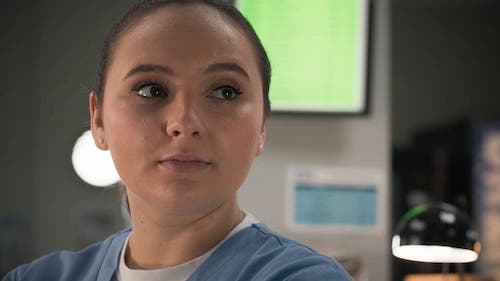 How did you get the role of Jade Lovall in Casualty and was she originally scripted as a deaf character
Yes! Jade has always been a deaf character, and only deaf/hard of hearing actors were seen for the role, which is really important to me. My agent got me audition and the rest is history!
What have been your highlights working on Casualty so far?
There have been so many wonderful highlights working on Casualty so far. A big one for me is just getting to work with such an abundance of brilliant actors and directors.
It's a fantastic job to meet and work with such a range of talented people, I really feel like a sponge – just soaking up all the experiences and learning a lot.
It keeps our performances really fresh. Working with director John Maidens and actor Sophie Stone is probably one of my adored memories.
I also feel very proud to be representing the deaf community, with someone so fiercely independent, strong and lovable as Jade.
Last summer, Jade met her birth mother who turned out to also be deaf. Can you tell us if they'll get to meet again in future episodes?
I would love for Jade and her mother to reconnect again, but who knows what will happen in the world of 'Holby'. There's some other great stuff coming up for Jade! You'll have to stay tuned.
How has filming been with the Covid restrictions and were you glad the difficulty face masks cause for deaf people lip reading was mentioned in the show?
It's an extremely difficult time for everyone, and masks do cause extra hurdles for deaf people, and lip-reading two metres plus, away from someone is challenging.
I don't know what I'd do without my interpreters who are absolutely wonderful and aid me in continuing to do my job as an actor.
I'm really happy the show highlighted the communication problems with masks, this is something I really pushed for to be represented. Accuracy and representation are extremely important to me when depicting the experiences of someone with a disability.
Gabriella Leon's thoughts on deaf representation in the media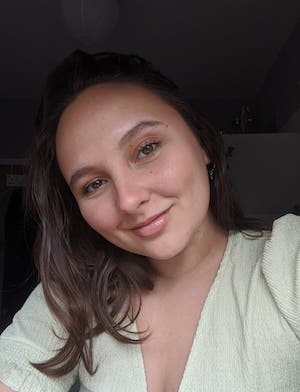 Do you think enough has been done to represent deaf actors and characters in TV shows and films?
I don't think there can ever be 'enough' of representation of deaf actors and characters. There will never be a point where we'll say, 'yes, this is enough representation'. There is always more to do, to educate and to learn.
I think we are definitely seeing pockets of deaf characters across TV and film but is very slow, and not always accurate, so there's definitely so much more that the industry can do for better equality and representation.
One big thing that needs to be implemented every time is casting deaf actors in roles where the characters are deaf. Because there should be 'nothing about us, without us'.

Equally deaf actors should be seen for non-deaf roles, so the characters do not centre around the fact they have a disability, they just happen to have one but it is not integral to the narrative.
This also stands for any actor with a disability. The media has a duty to represent the full breadth of society on screen, there are roughly 13 million people in the UK with a disability, that works out at about 1 in 6 of us. Are one in six characters on TV and films represented with a disability? Not yet, no.
Do you think enough has been done to make TV shows and films accessible to deaf audiences with subtitles and sign language?
Again, we're seeing some improvements across a limited number of channels and shows. But in short, the answer is no, there's still a long way to go in making TV shows and films fully accessible for deaf audiences.
For a start, live captions are often incorrect, inconsistent or non-existent. Every TV show, film and broadcaster should ensure that accurate subtitling is available across all of their work.
There are no reasons or excuses as to why something cannot be captioned correctly in this day and age. This is a basic thing the industry can do that has a huge beneficial effect, not only on deaf people but for many others in society.
Those that have a platform in film, TV and media should also normalise and promote access, with the use of Interpreters and adequate captioning of the content.
This is all about getting true equality for deaf/hard of hearing and disabled audiences so that they can be equal to their hearing counterparts in society and have the same level of rich experience, enjoying the arts.
What advice would you give to other deaf people who would like to go into acting?
First of all, we need you in the industry so don't give up! Get yourself to acting classes, watch films, TV, plays to inspire you. Join DANC (Disabled Artists Networking Community) for brilliant opportunities on and off screen. Or seek representation from an agent.
Most importantly, never let anybody tell you what you're capable of, you are the person to decide what you are capable of – and the answer is anything and everything!
You can see Gabriella Leon on Casualty, Saturday evenings on BBC One or catch up on previous episodes on BBC iPlayer.
You can also follow her on Twitter and Instagram.
Interview by Emma Purcell – follow her blog Rock For Disability 
More on Disability Horizons…
The post Gabriella Leon: Deaf actress and theatre maker best known as Jade in BBC Casualty appeared first on Disability Horizons.