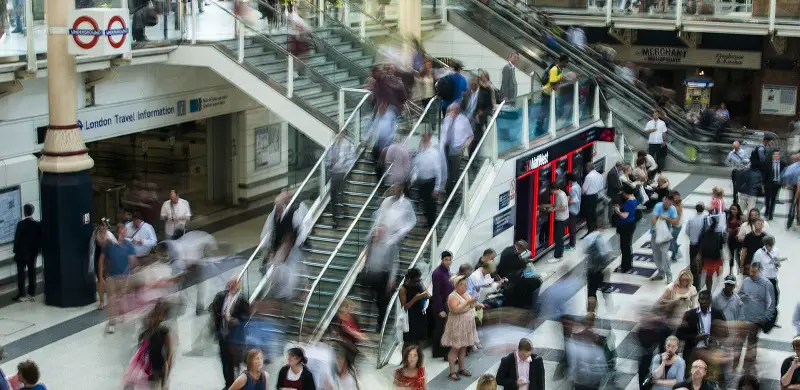 An accessible rail system must be prioritised as part of the economic recovery from Covid-19, says disability charity Leonard Cheshire. At present, 41% of railway stations in Britain are still not step-free and the Government is still set to miss its 2030 target on creating step-free journeys for disabled people by 40 years (2070).
Our latest study has revealed that more than 50,000 disabled people could get jobs if Britain had an accessible rail system.
Our research shows that 51,000 disabled individuals have turned down a job offer due to a lack of accessibility on the railway – 24,000 were actively seeking work, 27,000 said they would like to work.
Economic modelling* revealed subsequent benefits to the Exchequer would be as much as £900m if all 51,000 found work, with a potential output (GVA) boost of £2.5bn.
An estimated £4.3bn is needed for creating step-free access to platform level for disabled people across the rail network – a fraction of overall transport capital spending – and just a single year of spending on High Speed 2.
The cost to create step-free access represents just 2% of current transport capital investment.
Meanwhile, in London, the Lower Thames Crossing, a project to supplement the existing Dartford Crossing, is estimated to cost between £5.3bn and £6.8bn for just 14.3 miles of road.
The findings contrast with the stark reality that 41% of the UK's railway stations still lack basic step free access today.
We are calling for a new law that guarantees all rail journeys in Britain will be fully accessible by 2030.
An accessible railway system – what it would mean for disabled people
Emma is 24, lives in Birmingham and has cerebral palsy. She said: "I'm now looking for work, but most positions mean I would have to get a train into the city centre.
Once I'm on the train I don't know if I'm going to be able to get off because I need a ramp. 95% of the time I could be waiting on someone and I can't just get off the train when I want to.
When I hear about the research into how much money it would cost to make stations accessible, it's frustrating because it would make such an impact on disabled people's lives.
If the Government would invest, it would bring benefits to everyone because of the purple power – the money of disabled people.
Also, accessible transport would enable careers and fulfilling work, which would mean not just an increase in spending power but also an increase in earning power."
Gemma Hope, Leonard Cheshire's Director of Policy said: "These findings reinforce the need for investment in railway station infrastructure.
It is a simple issue of equality that is even more relevant as we remain in an economic crisis for the foreseeable future. We have revealed a clear link between accessible rail and job opportunities for disabled people that will boost the economy and improve lives."
Find out more about how the research was conducted and read Leonard Cheshire's full report on creating an accessible railway system.
By Leonard Cheshire
More on Disability Horizons…
The post An accessible railway would get more than 50,000 disabled people into work appeared first on Disability Horizons.